The promoter of Hero Honda, Hero Investments Private Ltd (HIPL), has pledged further shares of the company to IL&FS Trust Company Ltd, raising an estimated Rs 200 crore (Rs 2 billion).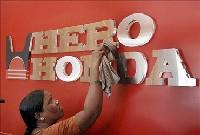 In a filing to the Bombay Stock Exchange, Hero Honda said HIPL has pledged an additional 13,18,653 shares aggregating to 0.66 per cent stake in the company on March 7.

On the basis of the closing price of the company's shares on the BSE on March 7, the value of the pledge stake is around Rs 200 crore (Rs 2 billion).

With the transaction, IL&FS Trust Company has now increased its stake in the two-wheeler maker to 5.98 per cent from 5.32 per cent before.

In the first week of this month, HIPL had raised an estimated Rs 1,585 crore (Rs 15.85 billion) by pledging 5.32 per cent stake with IL&FS Trust Co.

On March 9, HIPL had also raised Rs 900 crore (Rs 9 billion) by pledging shares to Axis Trustee Services Ltd.

HIPL is one of the main shareholders of Hero Honda, holding 17.33 per cent stake in the company as on December 31, 2010.

The BM Munjal led Hero Group has is raising fund to finance the buyout of Honda's 26 per cent stake in Hero Honda for Rs 3,841.83 crore (Rs 38.41 billion).

The group also said it will raise funds from private equity firms, including Bain Capital and Lathe Investment, estimated to be around Rs 4,500 crore (Rs 45 billion) to finance its buyout by selling stake in HIPL.

It has already sought government clearance to bring in foreign investment of up to Rs 4,500 crore (Rs 45 billion) in HIPL.

Shares of Hero Honda were trading today at Rs 1,514.20 in the late afternoon trade on the BSE, down 0.43 per cent from its previous close.