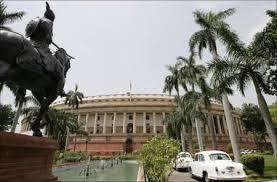 The President Pranab Mukherjee in his address to the joint sitting of Parliament unveiled the policies and priorities of the Bharatiya Janata Party-led National Democratic Alliance government which assumed power last month after elections to the 16th Lok Sabha.

Following are the highlights of the economic blueprint of Prime Minister Narendra Modi as unveiled by the President:

• Ushering in high growth rate, putting economy back on track
• Contain food inflation
• Reignite the investment cycle
• Accelerate job creation
• Restore investor confidence
• Create predictable, transparent and fair policy environment
• Make tax regime non-adversarial
• Make efforts to introduce Goods and Service Tax
• Undertake reforms to enhance ease of doing business
• Allow foreign direct investment in sectors that will create jobs, assets
• Emphasis on improving supplies to contain food inflation
• Steps to prevent hoarding and black marketing
• Reform of Public Distribution System to be taken
• Prepare contingency plan to deal with subnormal monsoon
• Increase investment in agriculture, infrastructure
• Promote labour-intensive manufacturing
• Invest in world class industrial regions, particularly along the Dedicated Freight Corridors and Industrial Corridors to be set up
• Unveil a comprehensive National Energy Policy
• Reforms in coal sector to attract private investment in transparent manner
• Expand National Solar Mission
• Operationalise international civil nuclear agreements, develop nuclear power projects.
Image: The Indian Parliament; Photograph: Reuters
© Copyright 2021 PTI. All rights reserved. Republication or redistribution of PTI content, including by framing or similar means, is expressly prohibited without the prior written consent.