Four years after entering Formula E racing, Mahindra comes out with a racing car designed for the e-racing circuit. Rajesh Karkera/Rediff.com reports.
After launching a slew of passenger cars, Mahindra and Mahindra has now ventured into producing track racers for Formula E
M5 Electro, designed and built by Mahindra Racing, was unveiled on Monday in South Mumbai's Four Seasons Hotel.
The launch came days ahead of the start of season 5 of the Formula E Championship, on December 15 in Ad Diriyah, Saudi Arabia. It will be followed by 12 more Formula E races in various cities across the world.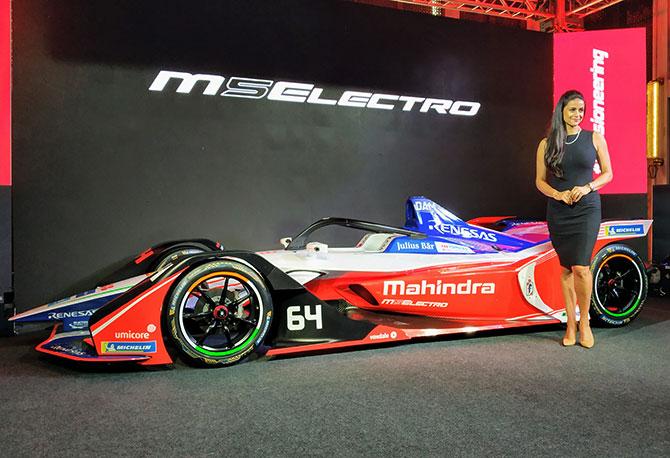 Gul Panag poses with Mahindra's all-new Formula-E car, M5 Electro. Photograph: Rajesh Karkera/Rediff.com
For season 5 Mahindra Racing have signed up Jerome d'Ambrosio and Pascal Wehrlein as its drivers, replacing Felix Rosenqvist and Nick Heidfeld.
Jerome d'Ambrosio, who is from Belgium is already a Formula E veteran, having won the championship twice, has been a part of it since inception.
In the video below d'Zmbrosio tells us about the new M5 Electro, Mahindra's 2019 Formula E Race Car.
Video: Jerome d'Ambrosio on the latest Formula E car from Mahindra Racing. Video: Afsar Dayatar/Rediff.com
Formula E, which is slowly but steadily building a lot of viewership all over the world is something that Mahindra is using to build up their brand globally. Agrees Dr Pawan Goenka, managing director, M&M: "One of the reasons we got into Formula E was to build up our brand internationally."
M&M has been associated with e-vehicles for a long time now -- from 1999, when they launched the electrical 3-wheeler Bijlee, the first EV to come with swappable batteries. "We were ahead of the times," says Dr Goenka. "Technology was not evolved. The country too was not ready," and they had to give up on the Bijlee.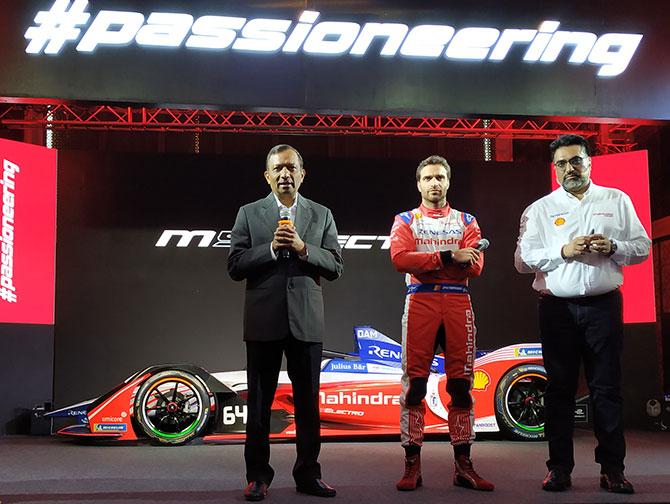 From left: Dr Pawan Goenka, m

anaging director, M&M Ltd

, Jerome d'Ambrosio, the new driver for Mahindra Racing, and Dilbagh Gill, manager, Mahindra Racing, at the launch of the M5 Electro. Photograph: Rajesh Karkera/Rediff.com
In 2010 M&M acquired the Reva Electric Car company, which is now called Mahindra Electric.
And in 2014, the three-year-old Mahindra Racing entered Formula E, becoming the only Indian team to compete in the FIA Formula E Championship.
So what exactly is Formula E?
Professional racing driver Nick Lars Heidfeld, who was the driver for Mahindra Racing from seasons 2 to 4, talks about Formula E, and tells us about the main change in this year's championship, the Attack Mode, and more in the video below.
Video: Professional racing driver Nick Lars Heidfeld explains the new Formula E race. Video: Afsar Dayatar/Rediff.com
Nick, who has scored seven third-place finishes for Mahindra Racing and registered his best overall season finish of seventh in season 3, will now be moving into an advisory role within the team as a reserve and test driver.
Present at the launch was Gul Panag, actor and automobile and fitness enthusiast. In a Q&A with Dr Pawan Goenka, Gul Panag talks of her passion for e-vehicles.
Video: Actor Gul Panag talks of her passion for electric vehicles. Video: Afsar Dayatar/Rediff.com