After the peak of the rally, the 'champion sectors' tend to underperform or perform in line with the market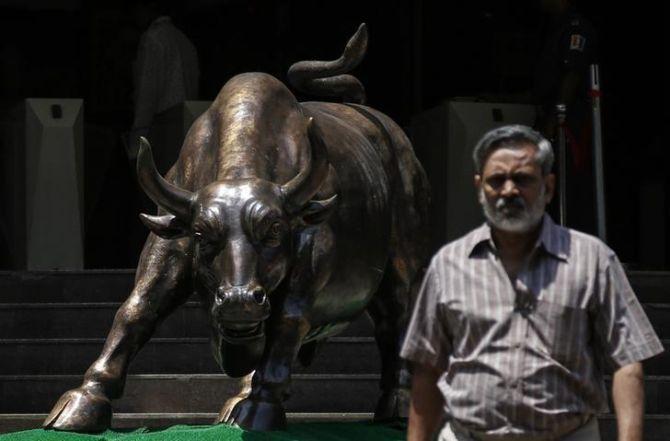 The Indian market has been adding to last year's stellar gains but the frenzy may not last long, said Ambit Capital in a report titled Here comes the final frenzy.
The domestic brokerage has spotted three tell-tale signs that signal an end to the rally - the pause in the rally seen at the fag-end of 2016; further spike in financial stocks, the torch-bearers of the recent rally and a sharp shoot-up in market valuations above historical levels.
"The current Indian bull market is all set for a final frenzy given: Post the "pause" in the closing months of 2016, the market has rallied strongly for a year and history shows that bull markets last for two years post the pause; (b) in the final stages of a bull run, the 'champion' sector in the rally rockets up, and the financial sector P/E (price to earnings) multiple up four times in the last four years) is rising in such a fashion; and (c) in the closing stages of a bull run, the market P/E shoots up - the Sensex's trailing P/E has risen from 17 times to 24 times in the past 12 months," said Aditi Singh, analyst at Ambit Capital, in a note on Monday.
The benchmark Sensex gained 28 per cent in 2017.
So far this month, it has risen another five per cent.
The banking stocks - major contributors to last year's gains - have, too, rallied sharply this month, as investors have piled on to them on hopes of higher foreign direct investment (FDI).
Singh says it is typically of a bull market that investors start betting on a champion sector which creates a bubble.
"Investors bet on all economic activity converging into them (champion sectors).
Typically, these sectors show a steep rise in valuations along with an increase in market capitalisation share.
After the peak of the rally, these 'champion sectors' tend to underperform or perform in line with the market," the note added.
Share of the banking sector in the benchmark indices has climbed to nearly a third. Financial shares account for a fourth of the market capitalisation of top 1,000 listed companies.
"The elevated weight of the financial sector is both an indicator of the frothy state of the overall market and a harbinger of a deep correction in the share prices of lenders, especially those who rely on the wholesale market for funding," the brokerage said.
Photograph: Danish Siddiqui/Reuters