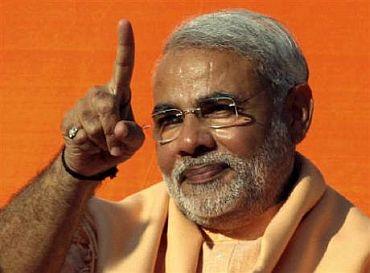 Terming Gujarat as "global gateway to India" Chief Minister Narendra Modi on Friday asked captains of industry to utilise the Vibrant Gujarat Summit as a platform to send a "positive" message to the world to stay away from "exploitative" economic models.
"Once upon a time, Gujarat was the gateway to the globe from India. Now it is becoming the global gateway to India. We will make such a Gujarat that whole world will make it their home," Modi said addressing the inaugural session of VGS 2013.
"I reiterate that this event is not just about investments, its not just about projects which give financial returns. Its about bringing positivity in the economic environment. Its about inducting togetherness in our socio-economic activities. Its about bringing global and local inclusiveness in our economic process," he said.
Addressing a galaxy of global, national and local industrial leaders, he also promised to take the state's success story a step further.
"Gujarat is a state in India which has now completed its first phase of development. Now we are ushering in the second phase; a more robust, a more dynamic and more modernised Gujarat," he said.
Talking about the past few tumultuous years of economic slowdown and its impact worldwide, Modi said, "we are meeting at a very crucial stage of our social and economic life. Last few years have not been very encouraging for the global
economy. Even the fastest growing economies of the world have experienced a slowdown. This situation has impacted India also and the growth of our economy has slowed down recently."
"It will be a great service to the global community if this forum and platform can display and demonstrate the conviction and commitment for betterment of economy and betterment of the lives affected. From here we must send a positive message for the global economy," he said.
He also cautioned against exploitative economic models. "History has repeatedly shown us that the economic models based on exploitation will not work."
"Even exploitation of markets is not going to help unless the people living in those markets are empowered, unless the local capacities to produce are improved, unless people are made partners in progress," he said.
"In Gujarat, we have created a model which makes use of the local resources and local talent. At the same time, it offers solutions which are right and relevant in the global perspective," Modi added.
Modi asked everyone to have faith the power of the youth of our country. Noting that 65 per cent of the country's population is below 35 years of age he said, "I firmly believe that this century is the century of India. And, to be realistically so, it has to be the century of the Indian youth.I am sure we will revive the whole of India with the power of youth and with the power of faith in that power."
Earlier, Modi today came in for fulsome praise from India Inc with RIL chairman Mukesh Ambani hailing him as a leader with "grand vision" and his younger brother Anil Ambani of ADAG putting him in the league of Mahatma Gandhi and Sardar Patel.
"In Narendra Bhai, we have a leader with a grand vision...Gujarat has been a pioneer state in infrastructure giving it an innate advantage," Mukesh Ambani said at the summit.
The three-day grand event aimed at investment promotion and creating investor friendly climate is being attended by top Indian industrialists and representatives of foreign companies and a battery of envoys.