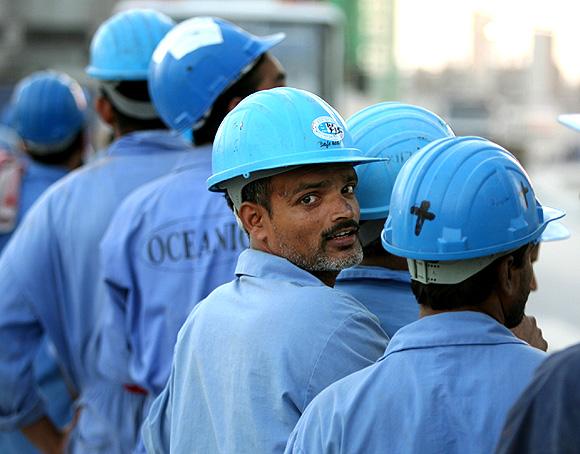 The Insurance Regulatory and Development Authority (Irda) wants insurance companies to calculate the likely cost of claims based on their number in earlier years, the number of people insured, nature of cover and rate of medical inflation.
If you are under an employer-provided health insurance scheme, you might have seen a reduction in the coverage.
Either you're being asked to share a part of the premiums or the sum assured has been reduced.
Or there is a separate plan for your parents, for which you have to bear the full premium.
These are the some of the steps employers are taking to reduce health insurance costs.
Such steps might become more common as insurance companies raise premium rates.
While the natural increase in health care costs due to medical inflation is a big reason, another is the strict stance being taken by the regulator.
Recently, the Insurance Regulatory and Development Authority (Irda) issued guidelines on the pricing of risk.
The regulator wants insurance companies to calculate the likely cost of claims based on their number in earlier years, the number of people insured, nature of cover and rate of medical inflation.
While insurance companies are yet to finalise the premiums, there are chances that group health premiums could see an increase.
Why?
Irda's concern is that insurance companies should not charge rates that are not sustainable, in the name of excessive competition, says Sanjay Datta, chief of underwriting and claims, ICICI Lombard General Insurance.
"Pricing will increase because of two reasons, health care inflation and the coverage. If you bring down coverage, then prices will not go up. Overall, prices will continue to follow health care inflation," he says.
Once Irda's guidelines are implemented, there will be a benchmark as a starting point for premiums, based on the loss ratio for the sector.
It will not be possible for insurance companies to offer rates lower than the benchmark.
So, this will lead to a rise in premiums, says Divya Gandhi, head of general insurance & principal officer at Emkay Insurance Brokers.
"Even if insurance companies want to give discounts under exceptional conditions, they will have to get it approved by their boards and file it with Irda on a quarterly basis. Companies will not be able to underwrite below that," she says.
Group health insurance has been a bleeding portfolio for most insurance companies.
This could be attributed to the fact that many insurers during the initial years of their operations are in a book-building process and, thus, underwriting guidelines are lenient on pricing, says Atrey Bhardwaj, principal officer, Probus Insurance Brokers.
Going ahead, some non-preferred sectors might have to shell out more than they were paying earlier for the same solution, as insurers would be looking to make it a viable solution to underwrite such businesses.
Discounts might still be offered to those companies or organisations that have been showing a healthy loss ratio for the insurer, Bhardwaj says.
Employees' contribution rising
Many companies already share premium costs with employees. Where an employee also provides for the cost of health insurance, it is termed a contributory scheme.
"Companies with a robust employee benefit solution set might absorb this cost in their books. Whereas, companies that consider this an additional burden on their operating cost might transfer such costs to employees," says Bhardwaj.
In some companies, the health insurance benefit is shown as part of the employee benefit package, the cost to company. Some companies at the inception of such schemes deduct it as a mediclaim expense from their monthly salary (though the tax benefit is offered to such employees and they may claim it under section 80D of the tax law).
Apart from a normal mediclaim solution, companies may also administer a separate plan for providing mediclaim coverage to the parents of employees.
Such plans are typically fully contributory, with the entire cost being borne by the employee.
The employer, in this case, is only a policy holder. Many multinational companies in India offer this option to employees.
The advantage is that the premiums are cheaper than if you were to buy a separate health insurance policy for your parents, as it is a group scheme.
Saving on premium
Buy an additional insurance policy in addition to your employer-provided one. Since the policy holder can choose which policy to utilise, one should choose to first utilise the employer-provided one.
This way, your individual policy can be left untouched and can accumulate a no-claim bonus, says Datta of ICICI Lombard.
Typically, customers tend to claim even a small amount, merely because it is a group policy. But this could lead to a rise in premium in subsequent years.
Says Bhardwaj, "A five-year claim-free period in current product offerings by many insurers mighty double the sum assured of the policy holders or simultaneously result in a discount in subsequent premium payment."
Buying a family floater, which can cover all family members in one policy, will help save costs rather than buying separate ones for individual family members.
These plans are ideal for a young family, as with a couple and two small children. As the total cover amount is a float and any member can utilise it, these plans are cheaper if compared to individual plans.
Buying a top-up policy and using the employer-provided one as the base policy will also help on costs.
For instance, if your employer provides a policy for Rs 2,00,000, you can buy a top-up for Rs 3 lakh, taking total coverage to Rs 5,00,000. The premium on this will be much lower than the premium for a Rs 5,00,000 standalone policy.
"Ideally one should buy a top-up policy from the same company with which you have your group policy. At the time of claiming, it is easier. Otherwise, you will have to send documents to two different companies," says Datta.
However, keep in mind that the new plan will only trigger once the claim amount exceeds the cover amount of the old policy and will only pay for the additional cost that is not covered under the old plan.
Another way to save on cost is to buy a critical illness (CI) rider or plan, also a cheaper solution to cover any critical ailment that one might contract.
And, unlike a typical health insurance plan, where only the actual cost is reimbursed, a CI policy gives a lumpsum amount to the policyholder, notes out Bhardwaj.
Customers must also check hospital rates before getting admitted to one, says Gandhi of Emkay. For instance, the same doctor usually offers consultation in different hospitals.
So, if you are getting admitted for a surgical procedure, choose the one which charges lower rates.
You can save on room rent and other hospital charges, which will result in lower claims and thereby lead to lower premiums at the time of renewal.
"If you have senior citizen parents, you can opt for co-pay in your individual policy, as other premiums for senior citizens can be quite high," adds Gandhi.