Capital controls imposed in Greece are likely to stay in place for months and its banks may need billions of euros of new capital or even face nationalisation under a lengthy financial rebuilding, industry sources said.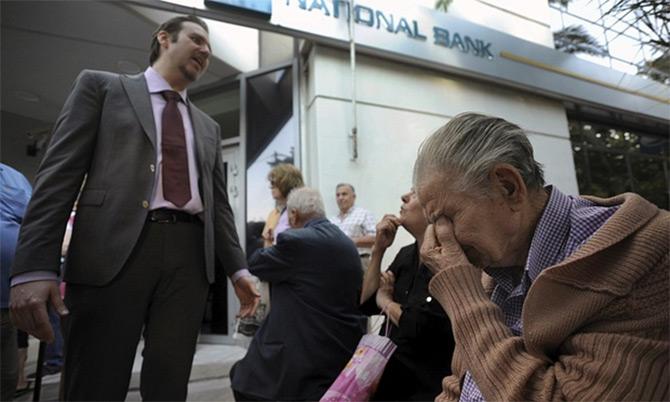 Image: Pensioners, hoping to get their pensions, wait outside a National Bank branch in Iraklio on the island of Crete, Greece. Photograph: Stefanos Rapanis
The decision to close the banks and impose capital controls from Monday was difficult, yet re-opening them and finding a way to lift the measures could prove even tougher, experts warned.
Creditors said the door to negotiations remained open despite the government's decision to break off talks and put their latest cash-for-reforms offer to a referendum next Sunday, but that a "no" vote would signal an exit from the euro.
"In the best case scenario they manage the bank holiday, find a way to reopen the banks, stabilise the system like Cyprus, and deal with the fallout of higher NPLs (non-performing loans) and liquidity crunch. You find a path through," said a restructuring industry source who was not allowed to speak publicly.
"But the risk is you effectively have a state bankruptcy, and the banking system going bankrupt as well," he added.
A Greek bank industry source concurred: "Under a bad scenario we are in uncharted waters, (it) could end up with ruins, nationalised banks," he said.
Greece said on Sunday it was closing banks all this week and capping withdrawals from ATMs at 60 euro a day to stem the outflow of cash from banks, from which about 40 billion euros ($44.7 billion) of savings have flooded out this year, or a quarter of deposits.
As the prospects for a deal receded, the European Central Bank (ECB) began refusing Greece's requests to raise the amount of emergency cash it is giving Greek banks, although the ECB is expected to let them keep using existing funds until the referendum, people with knowledge of the matter told Reuters.
Greece is not the first European country to impose capital controls since the 2007/09 financial crisis, and Iceland and neighbor Cyprus showed such controls are rarely short-term.
Cyprus closed its banks for two weeks in spring 2013 and limited withdrawals. Controls remained in place for two years, but the country was praised for stabilising its financial system and preventing a long, deep recession.
Iceland imposed controls in 2008 after the collapse of its banks, and only this month started to ease restrictions.
"Things move quickly..."
On Monday, most retail staff were not working in branches, but all other bank employees were at work, and so were staff responsible for replenishing ATMs.
Closing banks and restricting the flow of capital can build pressure for a solution as finances get squeezed.
"Once you start the closing of the banking system, things move quickly because every day you keep it closed you are aware of the consequences of doing so," the restructuring source said.
"It's easier to close the banks than it is to reopen them. You need a very clear plan for what's going to happen next when you reopen them," he said.
The liquidity position of Greece's banks and the strength of their balance sheets are crucial to how severe and lengthy capital controls will be.
Greek banks are relying on 89 billion euros of emergency liquidity assistance (ELA) authorised by the ECB, but they are estimated to be near to using that capacity.
While Greek authorities need to limit outflows, they also need to avoid crippling cash flow in the economy or squeezing the population too hard.
Planning how far to go and how to re-open banks next week is also made near impossible by uncertainty about whether the ECB will extend liquidity, the threat Sunday's referendum may lead to Grexit, or the potential for another spell of political limbo following the referendum.
A week of harsh controls might be enough to jolt the Greek people into reality over the dangers of not reworking a deal with public sector creditors, a second restructuring industry source said.
While solving banks' liquidity position is most urgent, their solvency will need speedy attention, analysts said.
Greek banks' core capital ratios (excluding tax credits) are all below 9 percent - the level investors typically want as a minimum - and range from just 4.9 percent at Eurobank to 8.3 percent for Alpha Bank, Citigroup analyst Ronit Ghose estimated.
And as the economy struggles, losses from bad loans and sovereign bonds could build. "Recapitalization risks are high," Ghose said.
In the event ELA funding is stopped, banks could be nationalised and carved into new banks alongside a multi-year workout of Greece's finances and economy, analysts and restructuring sources said.
Greek Prime Minister Alexis Tsipras is likely to be well aware of the political risks of capital control moves.
When Argentina froze access to bank deposits in December 2001, for example, the popular backlash was so severe its president and his successor had resigned within a month.

($1 = 0.8948 euros) (Additional reporting by Carmel Crimmins in Dublin)