Capital infusion seen necessary for banks to maintain regulatory norms at the time of paying interest towards AT-1 bonds
Illustration: Uttam Ghosh/Rediff.com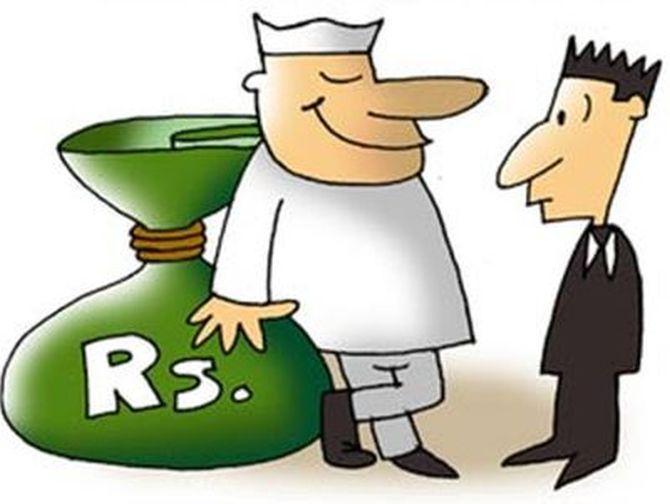 The government has decided to infuse Rs 2,350 crore into Central Bank of India to help it meet regulatory capital requirements.
With this, the government has so far injected around Rs 13,600 crore into public sector banks (PSBs) this financial year.
The capital infusion was needed as banks have to maintain the regulatory capital requirements at the time of paying interest towards Additional Tier 1 (AT-1) bonds, a senior government official said.
The notification for releasing the funds through recapitalisation bonds to Central Bank of India was issued by the government on Monday.
AT-1 bonds are perpetual in nature and therefore provide higher interest to investors.
A high-level of bad loans and widening losses have made it difficult for banks to service these bonds from their own earnings.
As a result, PSBs were facing the risk of breaching the regulatory capital requirement, sources said.
The government may also look to recapitalise Bank of Baroda (BoB), Vijaya Bank and Dena Bank before the merger takes place, the official said, adding the government has fixed a timeline of six months.
The government had announced the merger of these three PSBs to create the third largest bank in the country, on Monday.
"Recapitalisation may happen in these banks even before the merger takes place to meet their capital and growth requirements," the official said, without specifying the quantum of funds required to be infused in these banks.
During a presentation, Rajiv Kumar, the department of financial services secretary, had said that the capital support for the merger of the three PSBs will be ensured.
In July, the government had infused Rs 113 billion into five public sector banks, including Punjab National Bank, for similar requirements.
The Centre had infused Rs 2,820 crore into Punjab National Bank, Rs 2,550 crore into Corporation Bank, Rs 2,160 crore into Indian Overseas Bank, Rs 2,020 crore into Andhra Bank and Rs 1,800 crore into Allahabad Bank.
The infusion would be part of the remaining Rs 65,000 crore out of the Rs 2.11-trillion capital infusion over two financial years.
The government had announced a Rs 2.11-trillion capital infusion programme in October last year.
According to the plan, PSBs were to get Rs 1.35 trillion through recapitalisation bonds, and the balance Rs 58,000 crore through fund raising from the market.
Out of the Rs 1.35 trillion, the government had infused around Rs 71,000 crore through recap bonds last financial year, and balance will be done during the current financial year.