In the second phase of action against shell companies, the MCA is also trying to trace the directors of 'vanishing' companies
Illustration: Uttam Ghosh/Rediff.com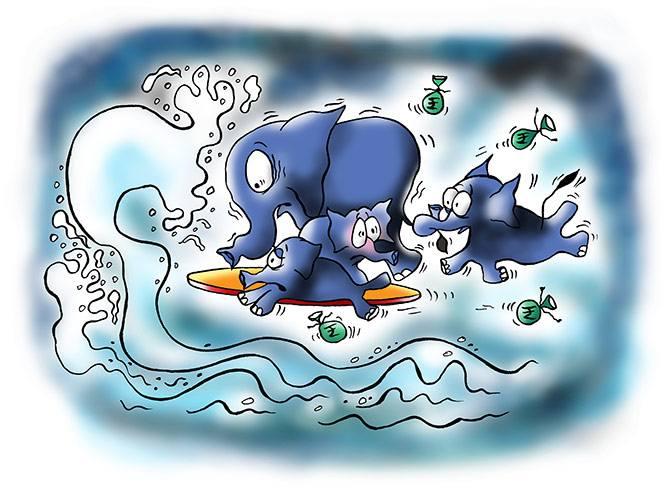 The Ministry of Corporate Affairs has started working on the second phase of weeding out shell companies.
After sending show-cause notices to 225,000 companies, 70,000 have been struck off and another 100,000 will go soon, said a senior corporate affairs ministry official.
The first list of suspected shell companies had 300,000 entities.
Apart from striking them off, their bank accounts have been frozen and the corporate affairs ministry has begun to scrutinise their transactions.
A senior ministry official said: "We are trying to trace the directors of the vanishing companies. At present, there are about 70 of them that we are targeting.
"Over the years, we have been able to identify many of companies that listed on the bourses but not traceable.
"For the remaining, while we are trying to locate their offices, an attempt is also being made to locate their directors."
As many as 77 of more than 200 "vanished" companies that came under the scanner between 1996 and 2004 continue to remain missing, while the others have been traced.
Many of these untraceable companies did not list after filing for the initial public offering.
All these companies were issued notices, to which over 100 of them responded.
These companies were found missing as they did not maintain registers at the address, according to the records of the Registrar of Companies (RoC) or the stock exchanges.
These companies did not file returns for two years with the RoC and the stock exchanges in case the entity was listed.
According to government records, these companies have been termed 'vanishing' because their directors are not traceable.
According to a recent reply in Parliament, Minister of State for Corporate Affairs P P Chaudhary said Gujarat had the highest number of vanishing companies at 17.
The reply also stated the government had filed first information reports against more than 70 companies.
Instructions have been issued to the RoC to scrutinise the balance sheet and other records of any company that raises money through public issue and monitor the utilisation of such funds.
This is not the first time when companies have been found missing.
Between 1992 and 1996, more than 4,000 public companies were found missing. These companies were found to have laundered money.