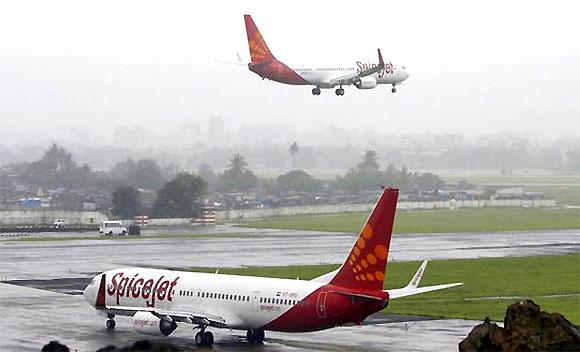 The government on Thursday out any immediate plan to divest stake in Air India or rope in a strategic partner for the loss-making national carrier.
Instead, the focus in the next 4-6 months will be to improve the airline's on-time performance, which has already gone up in the last few weeks, Minister of State for Civil Aviation Mahesh Sharma said.
Sharma, during an informal media interaction here, batted for a strong national airline, noting that it was important to have flag carrier in the country.
Finance Minister Arun Jaitley while setting an ambitious target to raise Rs 69,500 crore through divestment in 2015-16 Budget, had said, "This will include both disinvestment in loss-making units, and some strategic disinvestment."
Industry and aviation experts have long been demanding privatisation of Air India citing huge losses being reported by it, though the financial condition of the private carriers is also not quite good. Kingfisher Airlines lost its licence in 2012, while Jet Airways and SpiceJet are also running into losses.
IndiGo's profit went down by more than half in the previous fiscal over FY-13, while another private airline GoAir reported just about Rs 5.5 crore profit in the last fiscal.
Air India's net loss came down to Rs 5,389 crore in the last fiscal compared with Rs 5,490 crore in 2012-13 fiscal and Rs 7,559.74 crore in FY-12.
The airline is hopeful of trimming these losses further in this fiscal, due to lower oil prices and other factors as compared to the last fiscal.
The carrier is surviving on bailout package under a revival plan, which entails an equity infusion of Rs 30,000 crore in a staggered manner in it till 2021-22.
Sharma said that the government was committed to pumping in the allocated funds in Air India as part of its turnaround and financial restructuring plan, approved by the then UPA dispensation in 2012.
However, the government in the recently approved budget allocated only Rs 2,500 crore for the national carrier against a demand of Rs 3384 crore for the next fiscal.
Meanwhile, a Civil Aviation Ministry official said that the Ministry would soon approach the Finance Ministry to provide the shortfall of Rs 1,900 crore, including Rs 1000 crore of the current fiscal through the Supplementary Demand for Grants.
© Copyright 2022 PTI. All rights reserved. Republication or redistribution of PTI content, including by framing or similar means, is expressly prohibited without the prior written consent.