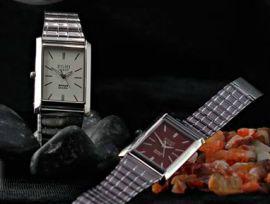 I t is hard to believe but the iconic HMT brand will disappear soon. Walking down the memory lane, most Indian families have had their 'HMT Moments' on auspicious occasions.
Once a trend setter, the 53-year old watchmaker is set to down shutters as it struggles to sell watches to customers.
The state-owned company which began selling automatic watches in 1961 in collaboration with Japanese company Citizen Watches, certainly gave tough time to foreign competitors who were somehow present in the country during HMT's peak time.
The time keeper of the older generation could not sustain competition from industry big wigs, nor did any corporate house come forward to bail it out of the crisis. Sad but true, the vintage brand now is passé.
We may no longer be able to adorn new HMT watches on our wrists, but those who have cherished the (HMT) era will keep the brand alive in their hearts!
PLEASE CLICK HERE to share your 'HMT moments'