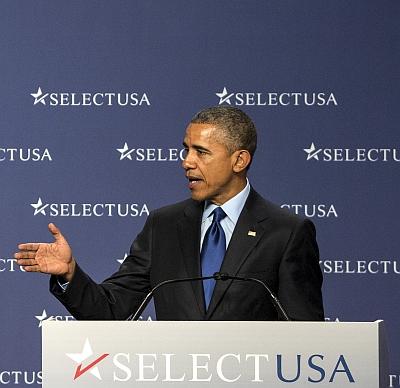 United States President Barack Obama has announced an easing of the process to obtain L-1B work visas for corporate executives, a move that could end the large scale harassment of IT professionals from India and make it easier for Indian companies to bring employees there.
Such a move, Obama argued would attract larger foreign direct investment to the US.
"I'm pleased to announce a new action I'm also taking to make it easier for global companies who are present here today to launch and invest in the US. My administration is going to reform the L-1B visa category, which allows corporations to temporarily move workers from a foreign office to a US office in a faster, simpler way.
"And this could benefit hundreds of thousands of non-immigrant workers and their employers, that in turn, will benefit our entire economy and spur additional investment," Obama said in his address to the SelectUSA Summit.
A large number of Indian companies are participating in the SelectUSA Summit aimed at increasing US exports and attracting more foreign investment into the US.
Large scale decline of L-1 visas was a major hindrance in Indian companies investing in the US.
"One of the things that would make America even more attractive to businesses and that would grow our economy and shrink our deficits, and keep this country safer, stronger, and smarter, would be a comprehensive immigration reform package," he said.
"That's why I'm going to continue to push and prod and poke and cajole friends in the Republican party to get on board and help us get this done. We need to get immigration reform done here in the United States of America. That's who we are. So the bottom line is this: America is proudly open for business," Obama said.
"We want to make it as simple and as attractive for you to set up shop here as is possible. That is what this summit is all about," he said, and hoped that global companies would benefit from the new measures.
Obama said there has never been a more exciting time to do business in the US.
"And today, I want to talk about why America is not only the right place for you to invest, but why America is the safest, strongest, smartest place for you to invest than we've been in a long time," Obama said.
"After the worst economic crisis since the Great Depression, America is now in the midst of the longest streak of private sector job growth on record. Businesses in America have added more than 200,000 jobs each month for 12 straight months.
That's the first time that's happened in nearly 40 years," he said.
"Our unemployment rate has fallen from a peak of 10 percent in 2009 to 5.5 percent today. After a decade of outsourcing, we're starting to bring good jobs back to America. Over the last five years, manufacturers have added jobs at a rate not seen since the 1980s.
"In fact, the manufacturing sector is actually growing faster than the rest of the economy. And last week, I announced nearly USD 500 million in new public and private investment in strengthening American manufacturing," he said.
"And even though the United States is already home to more foreign direct investment than any other country in the world, we have worked hard to address some of the challenges that held us back for too long," said the US President. For companies considering new investment here, Obama said the United States of America is the best place in the world to do business.
"We've got the most skilled and productive workers, the best universities, the most innovative entrepreneurs in the world," he said.
"We're the global leader in patents -- home not only to more R&D investment than any other country but to nearly one-third of all R&D investment in the world. Our access to global markets makes it easy to ship goods made in the USA around the world. Our commitment to the rule of law and strong intellectual property protections make America a dependable place to innovate and do business," Obama said.
"We are a country that always believes we can be better, a country that adapts and advances, and sets new standards for new times. It's one of the reasons why I put forward a budget for this coming fiscal year that reflects the realities of the new economy. We're going to give workers and businesses the tools they need to succeed in a fast-paced, highly competitive, constantly changing world," he said.
"That means new investments in education, new investments in job training, including making two years of community college free, because we want to make sure that our workers continue to be prepared to fill the jobs that you intend to bring here," he added.
"It means new investments in manufacturing, and 21st century infrastructure that 21st century businesses need. We're modernising ports, strengthening our bridges, making internet and wireless and broadband far more accessible more quickly," he said.
Image: US President Barack Obama speaks at the SelectUSA Investment Summit at National Harbour, Maryland.
Photograph: Joshua Roberts/Reuters