In the past 18 months, the department of revenue intelligence has seized 50 containers of cigarettes, valued at nearly Rs 200 crore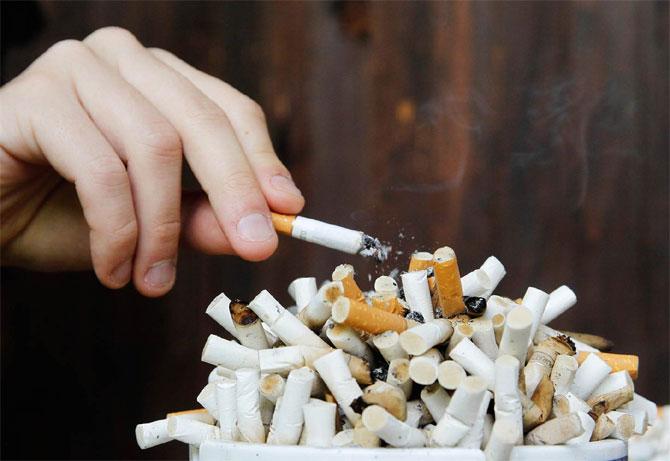 With the channel set three years ago to import gold illegally into the country not giving enough returns to cover the risk involved, operators of these channels - the smugglers, in simple words - are now increasingly switching over to illegal import of cigarettes. This is because of the "much higher RoI (return on investment)", according to intelligence officials.
The cost of a Rs 10 cigarette typically goes up to Rs 220 if imported legally. That is the margin the smugglers can corner, since they don't pay import duty. Even if they pass on some of the benefit from the evaded duty, they still make a good amount of profit.
Among other items these dealers are focusing on for unofficial imports are foreign currencies, especially those of West Asian countries.

Operators keenly look at the economic viability of a business. In gold, for example, the earlier 10 per cent duty was a major benefit. Among expenses, they had to count out an average three-four per cent hawala cost for procuring dollars from the illegal market to pay the carriers bringing gold bars, and for cost of seizures.
An average 6-10 per cent premium in 2013 and 2014 made the business very lucrative. But now, gold smuggling is becoming increasingly difficult, with the premium for physical delivery vanishing, and the risk increasing because of revenue agencies' tighter vigilance.
In 2014, the World Gold Council had estimated that unofficial imports into the country could be worth around 200 tonnes. Now, GFMS Thomson Reuters has pegged unofficial imports in 2015 at a little over 100 tonnes.
The operators, however, want to use the channel set for gold more profitably. And cigarettes, especially with a significant increase in duties, present a lucrative option.
Through seizure of imported cigarette consignments sought to be brought into the country clandestinely, without paying duties and other taxes, has increased significantly over the past year, smugglers are bringing products of top global brands more frequently.
These include the costlier ones like Davidoff, Gudang Garam, Djarum Black Slimz, Moods, Esse Lights, Dunhill Switch and Mond.
A reliable source in the know of intelligence agencies says: "Department of revenue intelligence (DRI) has seized more than 50 containers of various brands of imported cigarettes like Gudang Garam, Esse, Dunhill, etc, valued at Rs 200 crore in the past 18 months. These seizures have taken place across India. Cigarettes are usually shipped from Dubai."
"Such a huge haul was not seen previously. The reason for this are the steep import duty and local taxes on this product," said the source, adding, "what we see is that the same groups that were involved in gold smuggling earlier are now active in cigarettes now".
Syed Mahmood Ahmad, director, The Tobacco Institute of India, said: "The reported seizures reflect only the tip of the iceberg. For every seizure by enforcement agencies, there are dozens of consignments of contraband cigarettes that slip through surveillance and find their way into the market."
Euromonitor International, a global research organisation, estimated illegal cigarette imports into India in 2014 at 22.8 billion sticks, making the country the fourth-largest market globally for illegal cigarettes. In fact, industry body Ficci recently estimated that the overall market for illegal cigarettes in India now was 20.2 per cent of the cigarette industry's total size, up from 15.7 per cent in 2010, resulting in a revenue loss of Rs 9,139 crore to the national exchequer.
Ahmad said: "Over the past three-and-a-half years, on a per-unit level, excise duty and VAT on cigarettes have cumulatively gone up by 98 per cent and 124 per cent, respectively. This is exerting a pressure on the legal cigarette industry's volumes, even as illegal trade grows unabated."
Besides, with a tightening of regulations to curb the flow of unaccounted money, as well as anti-money laundering provisions, bringing West Asian currencies illegally and selling those to travellers and businessmen planning to visit those countries is also gaining ground.
Booming black market
In the past 18 months, the department of revenue intelligence has seized 50 containers of cigarettes, valued at nearly Rs 200 crore
Euromonitor International estimates illegal cigarette imports at 22.8 billion sticks in 2014, making India the 4th-largest illegal cigarette market in the world
Industry body Ficci recently estimated the overall market for illegal cigarettes in India at 20.2% of the industry size, up from 15.7% in 2010
Illegal cigarette imports have led to a revenue loss of Rs 9,139 crore (Rs 91.39 billion) to the exchequer
Bringing West Asian currencies illegally is also gaining ground
Photograph: Srdjan Zivulovic/Reuters