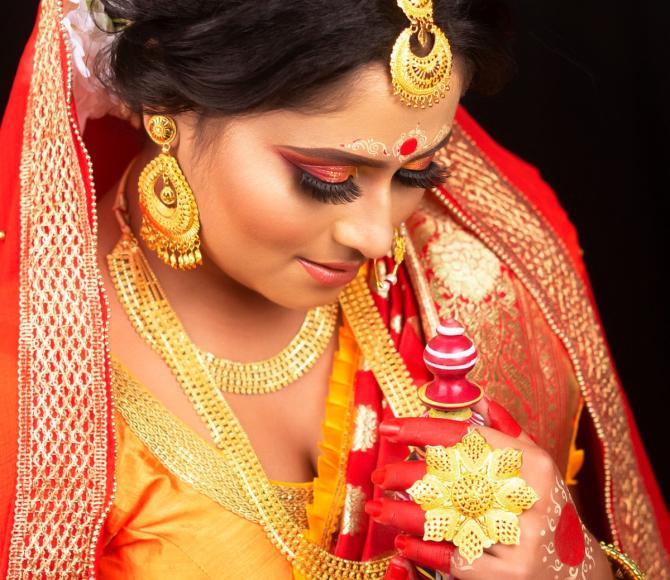 Demand for gold as a safe-haven asset may rise due to geopolitical uncertainty and the looming risk of recession in 2023, say brokerages.
They expect the yellow metal to touch a new high of Rs 62,000 in 2023 on the back of weakness in the dollar as the US Federal Reserve is likely to press pause on rate hikes early this year and may even cut rates in the fourth quarter of 2023.
'Also, Chinese economic growth should improve and boost consumer demand. The concern over weaker global economic growth and geopolitical tensions will make gold valuable as a hedge against uncertainties,' ICICIdirect said in a report.
According to Axis Securities, gold will continue to have an edge over other asset classes until a clear direction emerges at the macro level of the geopolitical crisis, inflation, and commodity prices.
With central banks at the peak of their rate-hike cycle, gold will continue to attract investments. The brokerage said that it will also benefit from mounting slowdown risks as investors look to hedge risks.
According to brokerages, gold may witness an upside due to a rise in jewellery demand and buying by global central banks.
Motilal Oswal Financial Services has given a target of Rs 58,000 for gold.
The brokerage said that movement in gold prices would be determined by monetary policy stance from global central banks, among other factors.
'A move in the dollar index and yields will also be watched by the market,' it observed.
In 2022, gold emerged as the top performer among all conventional asset classes with over 14 per cent returns mainly owing to the depreciation of the rupee. In dollar terms, the performance has been negative.
However, Indian investors evinced little enthusiasm for gold in 2022, going by the inflows into gold exchange-traded funds (ETFs) until November.
Data from the Association of Mutual Funds in India shows investors devoted a net of Rs 732 crore to gold ETFs during the period.
Gold ETF is just one avenue for investment in gold. Sovereign gold bond is another popular investment option in India.
Feature Presentation: Rajesh Alva/Rediff.com