A 75 per cent dip in gold imports in December, triggered by government's efforts to curb non-essential imports, led to contraction in India's overall imports for the first time in 25 months, while a resultant supply constraint of gold contributed to a 15 per cent decline in gems and jewellery exports.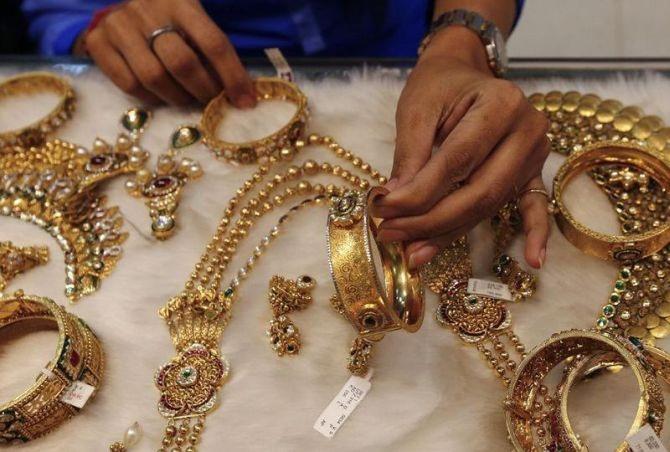 Gold imports dropped to $1.2 billion in December while gems and jewellery exports stood at $2.5 billion.
India's merchandise imports in December contracted 3.5 per cent to $58.24 billion while merchandise exports slid 12 per cent to $34.48 billion, leading to a marginal sequential widening of the trade deficit to $23.8 billion in December.
Amid rising risks to external demand, the government is concerned about widening trade deficit, bringing the focus back on curbing non-essential imports.
While releasing the trade data on Monday, Commerce Secretary Sunil Barthwal said: "We have consciously chosen to reduce gold imports. Imports also decline if substitution is taking place."
Vipul Shah, chairman of Gems and Jewellery Export Promotion Council, said supply of gold was a big challenge and that's one of the reasons exports of gems and jewellery were falling.
"I can't say whether it (dip in gold imports) was deliberate or not.
"That only the government can say.
"But the laws have become so strict that it is not lucrative for the nominated agencies to import gold.
"If the government doesn't relax the rules, it will be difficult for exporters," he said.
Shah said the Council had raised the matter with the government.
"Nominated agencies are not comfortable to import gold because there are a lot of liabilities on their side and are not making that kind of margin.
"We are trying to resolve it, sitting along with the government," he said.
Shah said the volatility in gold prices could have contributed to the dip in demand for gold.
Gold prices increased by an average of 3.9 per cent sequentially in December.
ICICI Direct has projected gold price to touch a new high of Rs 62,000 per 10 grams.
Considered a safe haven during times of high-interest rates, gold had a bumpy ride in 2022.
As the Russia-Ukraine war pushed gold prices to near all-time highs in the March quarter, broad dollar strength crushed the commodity to two-year lows in the September quarter.
However, domestic gold prices were more resilient, particularly due to the sharp depreciation in rupee, which fell by more than 10 per cent year to date.
"Following the sharp increase in central bank demand for gold in Q3 (September quarter), the outlook for official sector demand for gold may also be resilient in 2023," Kotak Securities said in a report.
"Customers are taking a wait-and-watch approach for the gold prices to stabilise.
"That's why there is a fall in import on gold side."
Because of China's zero Covid policy, China was not importing much.
"Hopefully, now Chinese market should open up.
"Then things should start picking up for the (gems and jewellery) industry," Shah said.