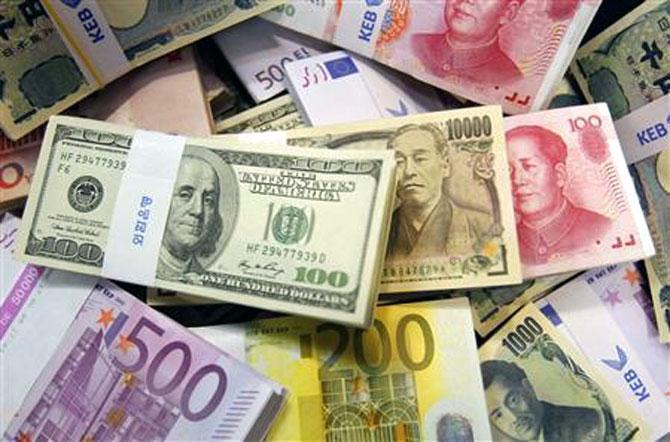 Foreign investors continue to bet on India in the Year of the Monkey
At the start of the calendar year, India seemed invincible and there seemed no end to the 'hope rally' which pushed up the benchmark Sensex by 30 per cent in 2014.
Much of the optimism has settled since then, as earnings show no sign of picking up and reforms have stumbled.
Growth in gross domestic product continues to be well below potential as the economy continued to deflate through the year and demand failed to pick up. However, none of these risks have taken the sheen off Indian equities and the outlook for 2016 continues to be bullish.
According to the Chinese zodiac system, 2016 will be the year of the monkey, which is generally considered to be a genial and happy time for the world at large.
Perhaps, it is this optimism that is driving global investment banks remain 'overweight' on India, though the expectations are now tempered by reality on the ground.
The reasons that made India stand out this year were not very different from those cited last year.
With inflation down, the government's twin deficits are largely under control and the interest rate cycle is expected to further come down. Put together, these would have a beneficial impact on corporate earnings.
No expert, however, is willing to hazard a guess as to when the the elusive earnings growth will return.
JPMorgan, which has come up with 10 stock ideas for the year ahead, expects "a modest recovery-driven early cycle by better margins -- aided by lower input and interest costs -- and, subsequently, a volume recovery. Government-led investment spending and urban consumption are likely to lead, with private sector investments and rural consumption lagging".
The global investment bank expects downgrades to continue for another couple of quarters. It believes the market's earnings expectations of 11 per cent in FY16 and 20 per cent in FY17 appear frothy in relation to the macro backdrop.
Goldman Sachs, which published its 2016 Asia economic outlook earlier this week, maintains a relatively optimistic stance on India's growth.
It expects the country to realise 'a bit more of its potential growth next year, given signs of a cyclical pick-up and the accumulating effect of reforms'.
The Asia economics team of Goldman Sachs expects GDP to grow by 7.5 per cent in FY16 and 7.9 per cent in FY17.
CLSA remains positively inclined towards India but calls for patience as "several economic indicators remain patchy".
Even as demand for oil, power and coal is seen to be picking up, consumption-linked imports remain weak, steel production is down and cement volumes are trending below average, it says.
Despite a reality check, India's valuations remain expensive.
MSCI India is trading at 16.7 times its 12-month forward earnings estimates, despite a cut in earnings expectations. These valuations are well above the average and at a 37 per cent premium to MSCI Asia-ex Japan. In sum, much hope for the coming year.
MUCH HOPE FOR THE COMING YEAR
CLSA's top picks
Earnings visibility: HDFC Bank, Zee, Infosys, Sun pharma, PowerGrid, Bajaj Auto
Cyclicals: Maruti, ICICI Bank, IndusInd, Adani Ports
Preferred mid-caps: PVR, IRB, Torrent Pharma, Persistent, Dish TV and Apollo Hospitals
Underweight: Select PSU banks, rural plays, staples, materials
JPMorgan's top picks: Infosys, HDFC Bank, Kotak Mahindra Bank, UltraTech Cement, Bharat Petroleum
Stocks to avoid: Bharat Heavy Electricals, Punjab National Bank, Reliance Communication
Goldman Sachs' conviction list: Grasim Industries, Bharti Airtel, BPCL, Titan, SBI, TVS Motor, YES Bank
The image is used for representational purpose only. Photograph: Reuters