Guess which CEO loves to gorge on to Pav Bhaaji or which is the top guy of India Inc who loves horse-riding?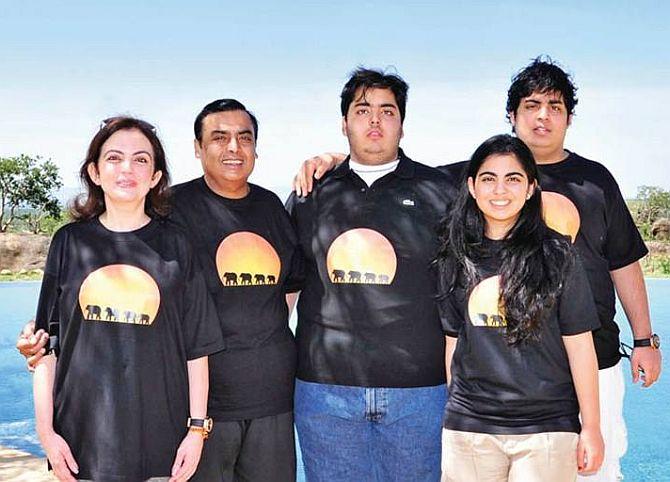 Image: RIL chairman Mukesh Ambani with wife Nita and kids holidaying in South Africa. Photograph: Courtesy, Nita Ambani/Facebook
Getting things always right is tough, and leaders of India Inc very well know that one wrong step could land their respective firms in trouble.
Hence, in a bid to take appropriate decisions on a daily basis, top honchos from Corporate India strive hard, really hard.
Corporate life is certainly a roller-coaster ride for most bosses be it any time of the year. And to beat stress, they too need little time to unwind.
Let's know more about what our super heroes do in spare time.
Mukesh Ambani, Chairman, Reliance group
Lets not talk about the ongoing KG-DG controversy this time.
Reliance Industries (RIL) chairman Mukesh Ambani is not the paparazzi kinds like his younger sibling Anil Ambani.
Apart from managing the RIL empire well, the senior Ambani has amazing hobbies and fascination that occupy his free time, though we doubt if he gets ample time to pursue hobbies.
Whatever be the case, we have learnt, he simply loves cars. Be it Mercedes, the Bentley or the Maybatch, he owns them all. To be precise, he owns over 160 super luxury cars which only a few in the world have.
His team says, the elder of the Ambani brothers loves adventure and is quite a regular at the Kruger National Park in South Africa.
And Bollywood stars like Aamir Khan and Akshay Kumar will agree that Ambani has often watched films with his favourite stars in his 50-seat theatre in his super-expensive home - Antilla.
If he likes the performance of any actor, he never hesitates to pick up his phone to praise him or her.
Newspapers were abuzz in late 2014, when Ambani called up Rani Mukerji to applaud her for the splendid performance she had put in Mardani.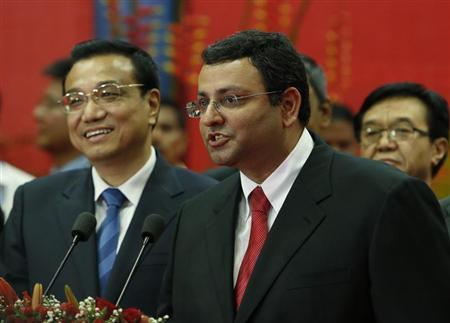 Image: Tata Group chairman Cyrus Pallonji Mistry. Photograph: Courtesy, Cyrus Mistry fans/Facebook
Cyrus Msitry, chairman, Tata Group.
At 43, Cyrus Pallonji Mistry is handling an over $100 billion Tata Empire which spans across 80 countries.
The soft spoken, dynamic successor to Ratan Tata has too much on his plate. It's been slightly over 2 years now that Mistry is leading the Tata Group.
His core team talks high of him as a leader who never fails to get the best work out of his executives.
Now, the lighter side of him
His close coterie loves to see him hit the golf course whenever he can make it.
Mistry has a penchant for horse riding and this is why he often visits his family-owned Manjri Stud Farm in Pune.
Members of the Parsi Panchayat say, he loves to holiday in Europe and to savour different cuisines from across the globe.
Tata Group boss is passionate about SUVs too!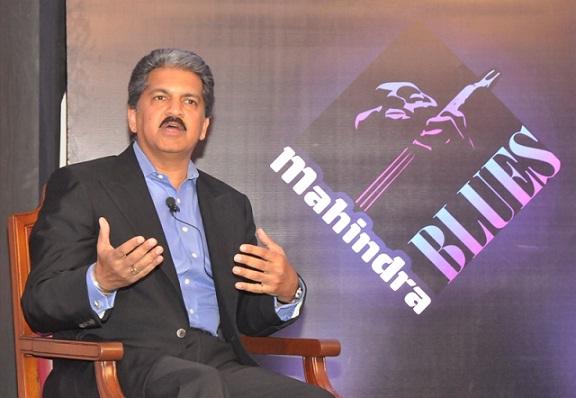 Image: Anand Mahindra, CMD, Mahindra Group addressing an event to promote the Blues Festival. Photograph: Courtesy, Mahindra Group
Anand Mahindra, CMD, Mahindra Group
Mahindra is known for his leadership skills in his fraternity. Be it any obstacle, the man emerges a winner from toughest of situations.
Apart from his success stories that we have been reading in the media, there are few fascinating facts about him which that are known to, maybe, just a few.
We all know that he is an MBA from Harvard Business School. But that is not all. He also has done a filmmaking course from the same university.
Mahindra also enjoys listening to the Blues and a few years back had set up an annual Mahindra Blues Festival which is patronised by the old and youth alike.
He is a very good photographer too, say those who know the lighter side of him.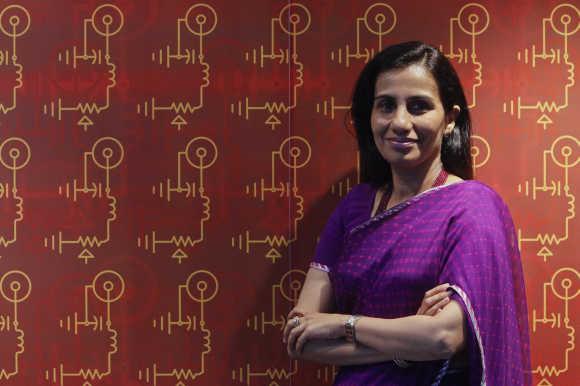 Image: Chanda Kochhar, MD and CEO, ICICI bank. Photograph: Vivek Prakash/Reuters
Chanda Kochhar, MD and CEO of ICICI Bank
Chanda Kochhar has travelled a long way at ICICI Bank where she began her career over 29 years ago.
She did not have it easy, but this first woman boss of ICICI Bank worked her ranks up and is highly respected across the globe for putting the bank back on growth path.
Kochhar appreciates good cinema and loves to see a good film on its release date.
We have always seen her dress up in beautiful sarees and we doubt if you know that most of her sarees are designed by none other than Kochhar herself.
She simply loves Red Thai curry.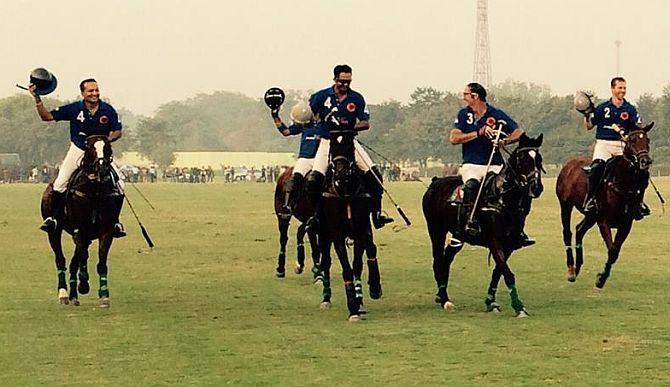 Image: Naveen Jindal, chairman, Jindal Steel and Power during a polo match with his freinds at his farm near Noida. Photograph: Courtesy, Naveen Jindal/Facebook
Naveen Jindal, chairman, Jindal Steel & Power
Businessman cum politician Navin Jindal has a very hectic schedule but somehow he manages to hit his stud farm near Noida whenever he can.
He has few ponies and horses at his sprawling 30-acre farm where he loves to play Polo with his friends.
Jindal is a national record holder in skeet shooting and holds a commercial pilot's license and had also co-piloted Dassault's Rafael fighter aircraft at the Aero India show in Bangalore in 2011.
When it comes to food, he tries anything in Thai cuisine.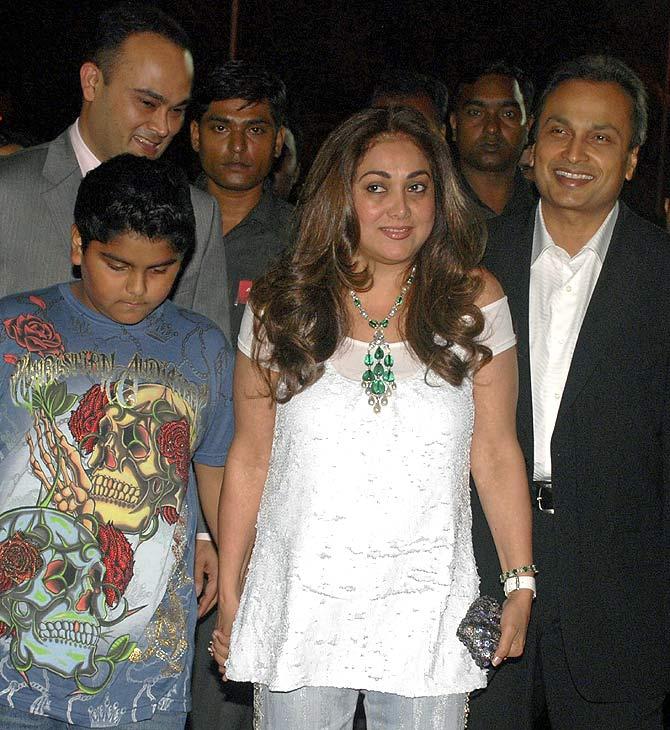 Image: Anil Ambani, chairman, Reliance ADAG with his wife Tina Ambani. Photograph: Reuters
Anil Ambani, chairman, Reliance ADAG
The flamboyant Ambani never fails to try new businesses which range from entertainment-to-power-to healthcare. It is widely known that he is very friendly with actor Amitabh Bachchan and Subrata Roy of the Sahara Group.
Ambani loves to drive Yellow Lamborghini Gallardo and Maserati Quattroporte.
A generous portion of tasty Pav Bhaji makes his day.
An avid marathoner, Ambani hits Marine Drive or the Race Course near Worli in Mumbai before perhaps you and I wake up.
Image: Azim Premji, chairman, Wipro. Photograph: Courtesy, Azim Premji/Facebook
Azim Premji, chairman, Wipro
Premji moves with the times to take Wipro to new heights each year. Whether it's technology, manpower or business contracts, he knows how to get the best deal for his company.
Apart from being the most generous philanthropist, Premji loves trekking and watching movies.
Staying fit is always on his mind.