India's gems and jewellery exports dropped 27.5 per cent year-on-year to $2.1 billion in December 2012, due to weak demand in traditional markets like the US and EU.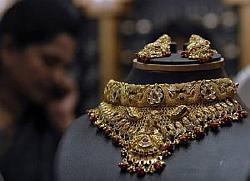 These exports stood at $3.02 billion in the same period in the last fiscal, according to the data provided by the Gems and Jewellery Export Promotion Council (GJEPC).

"The demand for gems and jewellery has still not improved in India's major markets like the US and Europe," a GJEPC official said.

The major markets for the country's gems and jewellery
include Europe, the US, the UAE and Hong Kong.
Among the items, which witnessed a maximum decline in December, cut and polished diamonds topped the list with a 37 per cent drop, followed by gold medallions and coins 22 per cent, gold jewellery 14 per cent and silver jewellery about 7 per cent.
During April-December 2012-13, gems and jewellery exports declined 13.7 per cent to $27.6 billion compared to the same period last year.
During 2011-12, exports of these items aggregated at $43 billion.
Gems and jewellery constitute 17 per cent of India's total exports and the sector employs 1.5 million people.