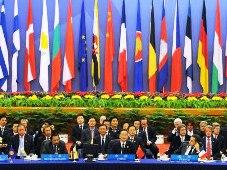 The Group of 20 countries, or G20, would play a steering role in the post-crisis world, giving the global economy a definitive character and preventing a retreat from globalisation, said Pulitzer Prize-winning author and investment manager Liaquat Ahamed.
"The recent crisis will not cause a retreat from globalisation unlike in the time of Great Depression (of the 1920s).
"Countries today have realised the gains from globalisation and that they will not gain from the retreat. We do not have a risk to globalisation now," Ahamed, author of
Lords of Finance: 1929, the Great Depression
,
and the Bankers who Broke the World
said in New Delhi on Monday in a conversation with
Business Standard
, organised by The American Center and Random House India.
Ahamed, whose books revolves around four influential central bankers from 1914-1933, also elaborated on how chiefs of central banks today need to reinstate professional ethics in them, which will lead to honest and transparent fiscal policies.
He also highlighted some of the significant differences between economies then and in the present context.
"During the Great Depression of the 1920s, everyone was in depression. But this time, some countries like India and China are not into depression," he said.
Highlighting the problem of currency manipulation by certain countries now, Ahamed said, "Currency manipulation will not lead anyone anywhere."
He also underlined the fact that currency devaluation by China would impact economies like India, Indonesia and Brazil more than the US.
"We cannot go back to gold standards anymore
now, simply because there is not enough gold in the world. We are going to have a major currency reserve and this is going to be the dollar. I don't see how the Chinese currency would become the currency of reserve because it is under heavy control and not free."
Contrarily, Ahamed also drew some uncanny similarities between the fiscal downturn now and in the era of the 1920s in terms of the failure of monetary policies, lowering of interest rates leading to asset bubbles, and finally, a colossal banking crisis.
"That time the world fell off the cliff, this time though that did not happen.
However, there are still of lot of parallels that can be drawn between then and now. The most important of this was fiscal atmosphere and behavior of the bankers.
During the 1920s, soon after the depression, the recovery was fast triggering off a sequence of currency devaluation, which we can see happening now," Ahamed said.
He also mentioned the tendency of global economies to resort to protectionist measures to overcome domestic problems by raising tariff barriers, thereby, opposing free and fair trade.
He, however, underscored that the G-20, which has a elected membership, would play a more vital role in keeping the world economies together and prevent countries from waging a currency war against each other, leading to facilitation of trade.