Dealers say foreign investors are now taking keen interest in lower-rated corporate bonds, too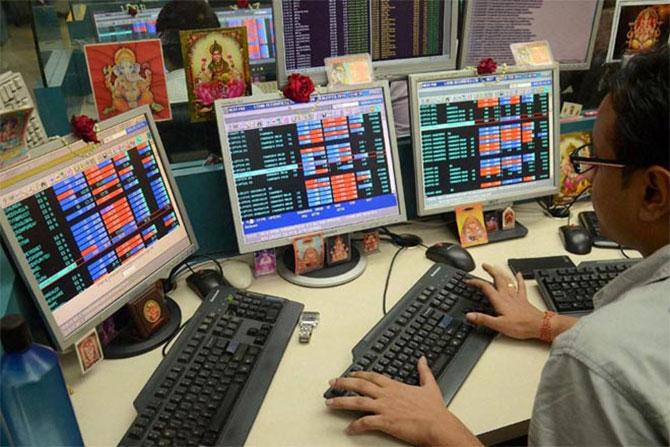 Foreign portfolio investors (FPIs) are returning to the bond market after battling negative sentiment in recent months.
In February, till last Thursday, they'd bought Rs 5,118 crore in Indian debt paper. This is the first month since September 2016 that they've been net buyers on Indian bonds.
Surprising, as in early February, the Reserve Bank (RBI) kept policy rates unchanged but changed the stance to neutral, indicating rates could head upward.
Bond yields have risen 50 basis points (bps) since announcement of the policy on February 8. On the policy day itself, net of buying, FPIs had sold Rs 674 crore (Rs 6.74 billion) in Indian bonds.
Most foreign investment in Indian bonds is portfolio flows, meaning the investors don't buy and hold for long. The funds seek high yields in emerging markets and as yields fall, investors stay away from bonds.
The consideration is the opposite with domestic investors. As yields fall, bond prices rise and the investment becomes attractive for the latter, which typically hold the bonds for a longer horizon.
According to Debashish Mitra, senior bond dealer at State Bank of India DFHI, domestic yields fell sharply after currency demonetisation but at a time when global yields were also rising fast.
This compressed the yield difference between developed market and Indian market returns, explaining why foreign investors shunned Indian debt. The 10-year bond yield had fallen to 6.1 per cent in November, whereas the US 10-year yield crossed 2.4 per cent from the usual two per cent.
The 10-year domestic bond yield closed on Monday at 7.03 per cent.
"With political uncertainties rising, portfolio allocation is generally tilting towards bonds. For an FPI, the Indian basket offers good return and, therefore, the allocation could be increasing towards Indian debt," Mitra said of the renewed foreign interest.
However, he noted, FPI investment in bonds was still lower than the pre-demonetisation level. Hence, some buying could be expected.
The debt utilisation status at National Securities Depository shows foreign investors had utilised 73.3 per cent of their total limit in government bonds and 72.4 per cent in corporate bonds. As on end-September, before the demonetisation drive, it was 90.8 per cent in government bonds and 69.7 per cent in corporate ones.

FPIs can invest up to Rs 1.52 lakh crore in central government securities and Rs 2.44 lakh crore in corporate bonds.
Generally, foreign investors have not been so enthusiastic about corporate bonds. With government bond yields rising, pulling along corporate yields, these coupons have become attractive.
Generally, the spread of an AAA-rated corporate bond is 50 bps above equal maturity government bonds. Dealers say foreign investors are now taking keen interest in lower-rated corporate bonds, too.
"RBI's policy has strengthened the rupee and partly restored higher spread vis-à-vis global yield. This is enabling restoration of foreign institutional investor interest in Indian bonds, particularly in the corporate bond segment, with higher returns.
The outcome is corroborating the basic fact that elevated rates are necessary for ensuring foreign flows and stable currency," said Soumyajit Niyogi, associate director at India Ratings & Research.
Photograph: Danish Siddiqui/Reuters