Zomato has lost over 9 per cent thus far in calendar year 2023 (CY23) and has underperformed the S&P BSE Sensex that has slipped nearly 5.3 per cent during this period.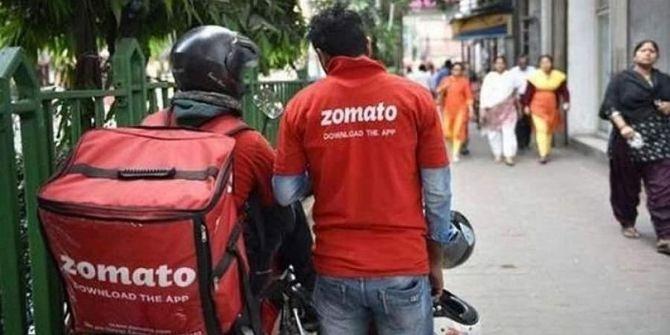 Despite this underperformance, analysts at HSBC think that the stock can hit Rs 87 going ahead – up over 64 per cent from the current levels.
The food delivery industry, wrote Yogesh Aggarwal and Abhishek Pathak of HSBC in a recent note, has slowed considerably in the last few months.
The hyper-growth expectations of the Street have now been suppressed, they said, although the current muted growth is likely undershooting the long-term trend.
"We expect FD Gross Order Value (GOV) to grow around 9 per cent y-o-y in the fourth quarter of the current fiscal (Q4FY23), below our medium-term expectation of 15 per cent, there are several silver linings for Zomato investors," the note said.
For the third quarter ended December 2022 (Q3-FY23), Zomato's losses had widened to Rs 346.6 crore, compared with Rs 63.2 crore in the previous corresponding period.
It had reported a net loss of Rs 250.8 crore in the second quarter (Q2) of FY23. Losses widened nearly 5.5x year-on-year (YoY) owing to the inclusion of Blinkit, analysts said.
Revenue, meanwhile, surged 75 per cent to Rs 1,948.2 crore – up from Rs 1,112 crore YoY.
The silver linings
For one, Zomato, HSBC said, has seen an improvement in the market share it lost to Swiggy, thanks to the launch of Zomato Gold.
In fiscal 2021-22 (FY22), Zomato's market share stood at 55 per cent versus Swiggy's 45 per cent.
This, HSBC believes, is likely to rise to 57 per cent in FY24 as compared to 43 per cent of its rival Swiggy.
"This would mean, notwithstanding the loss in 2022, that Zomato has gained 13 percentage points (ppt) in terms of market share from Swiggy since FY20," the HSBC analysts said.
Secondly, Zomato, according to the note, has impressed in unit economics - a method applied to analyse a company's cost to revenue ratio.
"In Q3FY23, the company reported a contribution margin (CM) of Rs 21.5/order. From Q4FY23 onwards, there will be a negative impact from Zomato Gold in the range of Rs 10-12/order, which could concern investors.
"However, we believe Zomato will be able to offset this impact from its continued push for higher take-rates and lower costs," the note said.
In the coming quarters, as the company absorbs the impact of Zomato Gold, HSBC believes that the earnings before interest, tax, depreciation and amortisation (EBITDA) margins should continue to improve.
That apart, Swiggy, it said, continues to burn a lot more cash than Zomato.
As the execution bias swings in favour of profitability, HSBC believes the industry dynamics will be more conducive for Zomato as it looks to expand margins.
The food delivery industry, HSBC believes, is likely to see a pick-up in growth in the medium-term (2 - 5 years) and the current growth rates of around 15 per cent will inch higher.
Lastly, Blinkit – Zomato's instant delivery service that it acquired in June 2022 for Rs 4,447 crore in an all-stock deal - should add to Zomato's fortunes over the next few years.
Blinkit's current gross order value (GOV) run-rate is around $1 billion.
In FY25e, the business could easily achieve GOV of around $2 billion, which even at 0.5x GOV could provide $1 billion to the stock value (20-25 per cent of its current EV).
With increasing volumes we see the potential for quite an improvement in profitability as well, Aggarwal and Pathak said.