'The government wants farmers to diversify from rice and wheat, and create another green revolution. Cannabis can play a big part in that'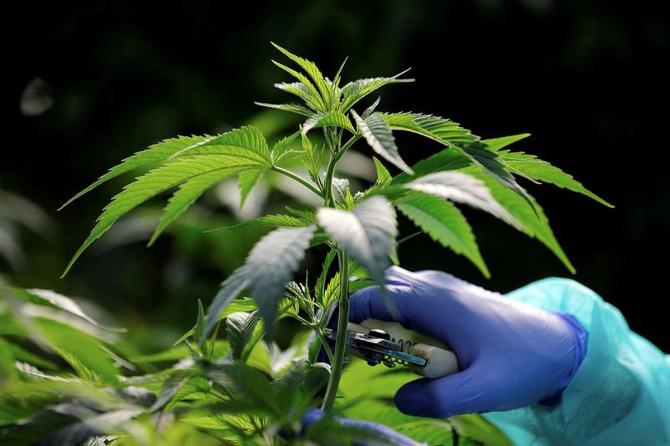 For long, cannabis has been a contested territory in India.
It's deified as a sacred plant and demonised as a devilish drug at the same time.
But for a new breed of cannabis entrepreneurs, this is a moment of hope.
Start-ups such as Bombay Hemp Company (Boheco), HempCann Solutions and Everest Eco Hemp are part of a nascent industry that is sensing a growing acceptance and wishing for decisive action from policymakers to unlock the potential of cannabis as a wonder plant.
Their optimism stems from the United Nations (UN) reclassifying cannabis as a less dangerous drug in December 2020.
Among the 53 member States of the UN drug policy-making body, Commission on Narcotic Drugs, was India, which voted in favour of removing cannabis from Sche­dule IV of the 1961 convention on narcotic drugs -- that listed it alongside harmful drugs considered to have little or no thera­peutic value.
In effect, the vote has made it easier to recognise the medicinal and the­rapeutic properties of cannabis, although it will continue to be viewed as harmful for non-scientific and non-medical purposes.
"India's vote was a very positive statement towards industry, academia and medical experts," says Jahan Peston Jamas, co-founder of Boheco.
"One of the key impacts is increasing conversations with pharmaceutical and nutraceutical organisations around THC and CBD (tetrahydrocannabinol and cannabidiol, natural compounds found in the plant), and the cultivation and utilisation of the flower in a more clinical setting."
In India, the Narcotic Drugs and Psychotropic Substances Act, 1985, illegalises recreational use of cannabis.
It bans production and sale of cannabis resin and flowers, but excludes the seed and leaf from its purview.
The leaf is recognised as an ingredient for use in Ayurveda and Unani medicines under the Drugs and Cosmetics Act, 1940.
Jamas points out that the seed is in the final stages of being classified and not­i­f­ied by the Food Safety and Standards Aut­h­o­rity of India as an official food ingre­d­i­ent.
A health ministry notification in Oct­o­ber 2020 noted that hemp seed, ob­t­a­in­ed from Cannabis sativa plants in which the con­c­en­tration of THC is 0.3 per cent or less, and its products "can be sold as food or used as an ingredient in a food for sale", provided they conform to certain parameters.
An industrial and medical hemp org­an­­isation, Boheco has over time created a commercial range starting with hemp tex­tile, hemp seed- and oil-based food, and leaf-based wellness products.
The eight-year-old firm, which counts Ratan Tata among its financial backers, has tried to build an ecosystem by working with poli­cy­makers and regulators so that cultiva­t­ion and research of the plant is allowed for industrial and medical purposes.
In Uttar Pradesh, it has worked with the Council of Scientific and Industrial Res­earch (CSIR)-National Botanical Research Institute to get one of the first licences to cultivate cannabis for research in India.
It has collected over 300 landrace varieties for a seed bank with CSIR partners.
These are being studied for their varying THC and CBD levels, and fibre and seed quality.
Boheco has also been a frontrunner in conducting clinical stage trials, and selling licensed products in the market such as oil to treat arthritis.
"In the last two years, we have provided products in formulations to more than 15,000 patients and worked with over 100 doctors," Jamas says.
According to a report published by US-based consulting firm Grand View Rese­a­rch a year ago, "The global legal marijuana (as cannabis is also known) market is expected to reach $3.6 billion by 2027", at a compound annual growth rate of 18.1 per cent.
In India, where registered companies in this space are only in the tens, the ind­ustry for hemp-based food and cannabis-based Ayurvedic wellness products is estimated at $120-140 million annually.
HempCann Solutions, an Odisha-based start-up, opened India's first cannabis clinic in Bengaluru a year ago.
Following the UN vote, the seven-year-old company is keenly awaiting positive policy changes.
"We have to see what the government's stance is and how tightly it wants to control a plant, which is not as harmful as thought of," says founder Sourab Agarwal, adding that the company has so far met with average response.
Dilsher Singh Dhaliwal, director of operations and strategic collaborations, Everest Eco Hemp, points out that cannabis is also called "vijaya" (victor) in Sanskrit because of its strong medicinal properties.
"Ironically, high-grade varieties from Himachal Pradesh are not sold here, but in Amsterdam."
The Gurugram-based start-up and licence-holder, which grows cannabis on 250 acres, was started in 2016 with an aim to supply raw material to industry.
It has also been lobbying with the government, but Dhaliwal says the bureaucratic red tape, stringent law and a negative perception continue to be roadblocks.
The Bollywood drug syndicate controversy, aided by a media frenzy, that blew up after the death of actor Sushant Singh Rajput last year only stigmatised cannabis further, Dhaliwal observes.
"The government wants farmers to diversify from rice and wheat, and create another green revolution. Cannabis can play a big part in that," he says.
The plant, he adds, matures in three months flat and yields value with every part.
For instance, hemp fibre is anti-bacterial and ultraviolet-resistant, so it can work well as a raw material for textile, Dhaliwal says.
For entrepreneurs such as him, the fight, he adds, "is not to be rebellious, but pragmatic".
But for now they have to wait for legislative and policy changes to open up the cannabis industry.
Despite growing investor interest globally, in India, cannabis is an "industry in waiting," says Ankur Bisen, senior vice-president, retail and consumer products, Technopak Advisors.
"It's become a herb now as the global market has exploded with the launch of all kinds of edible use cases for cannabis," says Bisen.
"But there is inhibition on the part of the Indian government. It will require cannabis production on a scale for companies and manufacturers to harness the export potential."
Photograph: Amir Cohen/Reuters