About 48.5 million shares, or 20 per cent of the shares on offer, are reserved for retail investors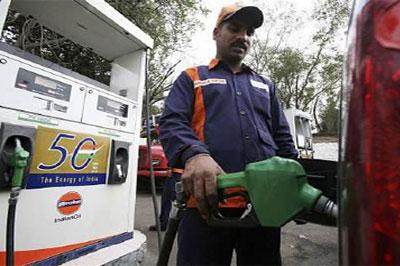 Setting the stage for 10 per cent disinvestment in Indian Oil Corporation (IOC), the government on Saturday announced a floor price of Rs 387 a share for an offer for sale (OFS) on Monday. This is a discount of about two per cent to the stock's closing price of Rs 394.45 on the BSE on Friday.
In an announcement to exchanges, the government issued an OFS notice for 242.8 million equity shares of face value Rs 10 each through a separate window provided by the BSE and the National Stock Exchange. About 48.5 million shares, or 20 per cent of the shares on offer, are reserved for retail investors, who will also be offered an additional five per cent discount.
At the base price, the government will raise about Rs 9,300 crore (Rs 93 billion) from the share sale. Following the OFS, the government's stake in IOC would stand at 68.92 per cent.
This would be the fourth divestment in a public sector company this financial year. With the IOC OFS, the total sell-off proceeds raised so far in FY16 would be about Rs 12,855 crore (Rs 128.55 billion), against a target of Rs 41,000 crore (Rs 410 billion) for divestment in profit-making public sector undertakings. Earlier this financial year, the government had raised Rs 1,610 crore (Rs 16.10 billion) from divestment in Rural Electrification Corporation, Rs 1,600 crore (Rs 16 billion) from Power Finance Corporation and Rs 145 crore (Rs 1.45 billion) from Dredging Corporation of India.
The IOC share sale, the biggest since the Coal India OFS worth about Rs 22,000 crore in January this year, comes at a time when the equity market is going through a turbulent phase due to fear of a global slowdown resulting from developments in China. Experts say the share sale will be challenging, given the prevailing risk aversion among global investors.
"Given the large size, the government might require help from LIC and other domestic investors to ensure smooth sailing of the Indian Oil OFS," an investment banker said on condition of anonymity. However, with global crude oil prices nose-diving and revenue losses of oil marketing companies at an all-time low, the IOC disinvestment is likely to be received well. Also, shares of oil marketing companies, including IOC and Bharat Petroleum Corporation, outperformed the market last week.
On Tuesday, IOC had announced a net profit of Rs 6,436 crore (Rs 64.36 billion) for the quarter ended June this year, compared with Rs 2,523 crore (Rs 25.23 billion) during the corresponding period last year.
IOC is India's biggest oil refining and marketing company, with 54.2 million tonnes (mt) of refining capacity, about a fourth of the country's overall refining capacity of 215.1 mt. Besides, it owns and operates 24,405 fuel pumps, a little less than half of India's 53,419 filling stations.
Citigroup Global Markets, Deutsche Equities India, Nomura Financial Advisory, JM Financial Institutional Securities and Kotak Securities are the investment banks handling the IOC share sale.
The government also plans to raise Rs 28,500 crore (Rs 285 billion) from divestment in loss-making firms. It has already secured Cabinet approval for stake sales worth Rs 50,000 crore (Rs 500 billion) in 20 companies, though these stakes might not be sold this year. It is in the process of selecting merchant bankers for disinvestment in many companies— MMTC, NMDC, Container Corporation, Oil India, National Aluminium, Bharat Electronics, India Tourism, Hindustan Copper and NTPC. It might also sell an additional 10 per cent stake in Coal India.