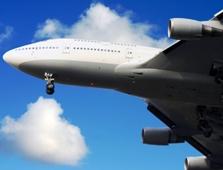 Several Indian passengers who were flown home from strife-hit Cairo on two Air India  flights have complained that the airline charged fares as high as Rs 43,000 for a single ticket to Mumbai.
The flag carrier had operated two flights as a special measure to airlift Indian citizens who were caught in the violent unrest in Egypt but some stranded fliers alleged that they had to shell out almost more than double the cost of a single ticket from Cairo to Mumbai.
"The airline has charged fares as high as $980 (Rs 43,000).
"No doubt they have done a good job by rescuing us from the chaos in Cairo, but charging such exorbitant fares in such a situation is not at all justified," said a passenger, who landed at the Mumbai international airport this morning.
Some of the fliers alleged that the airline did not realise the gravity of the situation and demanded payment only in cash to book a flight ticket.
"They were taking only those people, who were able to pay in cash.
"They were also not accepting payment either by debit or credit card. Due to this reason, a lot of students, who are not in a position to pay are still stuck in Cairo," another passenger, who reached Mumbai, said.
However, Air India denied that it had over-charged
passengers and said these were normal return fares.
"We operated an empty aircraft from Mumbai on Monday to ferry these passengers by pulling out the plane from a scheduled service," an Air India official said.
A one-way ticket costs around Rs 20,000 at least in this sector, said a travel agent in Mumbai.
Meanwhile, Air India flight AI 800 landed at the Chhatrapati Shivaji International airport at around 6 am with 219 passengers from the troubled nation on board.
On Monday, a batch of around 300 Indians, stuck in the African country landed here safely, much to the relief of anxiously waiting relatives in the city, who were happy for their luck kins who escaped the tumult that has hit Egypt over the demand for the ouster of President Hosni Mubarak.
Most passengers, who arrived in the first batch in Boeing 747-800 last afternoon were from TATA Steel, which organised a three-day conference in Cairo.
Nearly 550 Indians, including tourists, have been transported back from Egypt till now.
© Copyright 2022 PTI. All rights reserved. Republication or redistribution of PTI content, including by framing or similar means, is expressly prohibited without the prior written consent.