The rubber and tourism industries in the state, to which the bank has exposure, have been hit.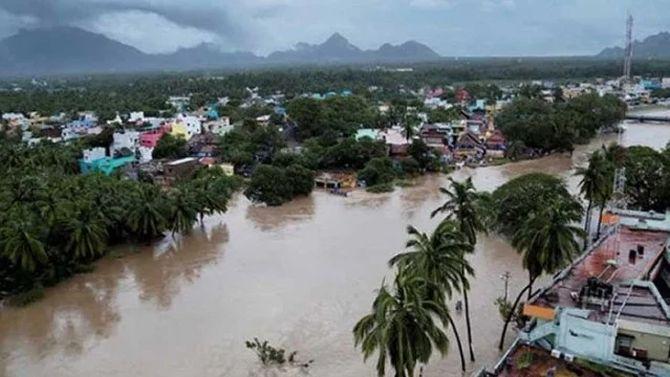 Federal Bank expects bad loans from Kerala to go up 20-30 per cent, its managing director and chief executive officer Shyam Srinivasan said on Tuesday in a call with analysts and investors on the probable impact of the Kerala floods on the south-based bank.
Srinivasan said that barring five physically-damaged ones in certain areas, all its 593 branches in the state are now fully functional.
However, the management expects the slippages (loans turning bad) from the state to go up by 20-30 per cent in the next two-three quarters, from average levels of Rs150-170 crore in the last eight quarters, amid some implications on credit.
The rubber and tourism industries in the state, to which the bank has exposure, have been hit.
Of the total Kerala loan book of around Rs 31,000 crore (31-32 per cent of total advances as of June 2018), Rs 1,500 crore, or 56 per cent, of the bank's stressed portfolio of Rs 2,680 crore are from the 60 small branches, which are in significantly affected territories of the state.
However, the management is confident of bringing down its overall stressed book to 1.7-1.8 per cent of total advances from 2 per cent currently.
The stressed book includes the accounts which are likely to turn bad.
There is reason for this confidence. About 75 per cent of its small and medium-sized enterprises loan book, 95 per cent of the retail book and 100 per cent of agri loans from Kerala are secured.
Also, the agricultural loans have got moratorium (from the government) of one year for interest payment, and five years for principal repayment, Srinivasan said.
Moratorium period is a time during which borrowers are not required to make any repayment, while banks, too, will not have to recognise these loans as stressed.
As of June 2018, Federal Bank's agricultural portfolio stood at Rs 9,700 crore, of which 58 per cent, or Rs 5,600 crore, is from Kerala.
In terms of deposits, the management expects remittances to increase substantially due to the weak rupee and given the support needed by Kerala (pointing to the large Kerala-origin non-resident Indians). However, the impact on deposits as a whole needs to be seen.
Besides, Rs80-100 million of additional costs is required to restore the damages.
However, the management expects retail credit demand to grow as individuals would need to restore their life back to normal levels.
The stock of the bank was down by over 7 per cent in just past five trading sessions, mainly due the flood-related concerns.
Photograph: PTI Photo