With the focus on employee retention and wellness, HR has its job cut out.
Sindhu Bhattacharya reports.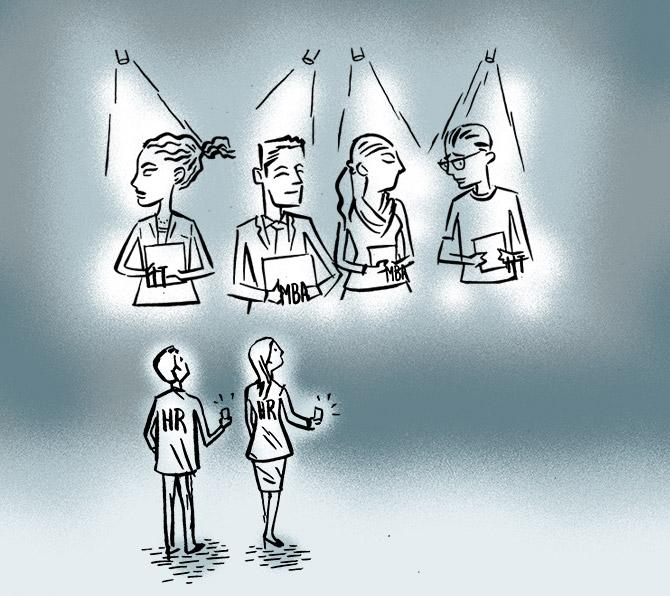 India Inc has weathered many a storm during Covid-19: from supply chain disruptions to demand dips, steep increase in input costs to shortage of key raw materials.
As most companies navigated unprecedented challenges on multiple fronts, realisation dawned also about the criticality of employee welfare in the survival of the business.
And it was the human resources (HR) department that faced the greatest test on this front.
HR policies had to be virtually rewritten, employee wellness became a key focus area and flexibility the new buzz word.
The nimbleness of the HR department is now visible again, with Omicron threatening to derail work.
Rajesh Uppal, member, executive board (HR, IT and Safety), Maruti Suzuki, India, says during previous waves, the company had put in place a colour-coded response to the pandemic, with a taskforce headed by joint managing directors.
The moment it became clear that Omicron posed a renewed threat, this system was operationalised.
"It was seamless. For one-and-a-half years now, the whole process of working from home and office has been institutionalised, and infrastructure has been established," he says.
"This new mode of working (rostered coming to office) is much more effective versus the traditional way."
Not only have WFH and hybrid work models become easier to implement across many companies, thanks to HR transformation, a lot of other HR functions have also moved almost entirely online.
Anjali Varma, an independent HR consultant, says in the post-Covid scenario, HR will have to increasingly rely on tech, and do as much as possible on the cloud.
"Interviews are now all online. But there are policy decisions to take," she says, explaining, "Should hiring interviews be recorded and if yes, should the interviewee's permission be sought before making a recording?"
This are questions HR is now dealing with in a changed world.
There are, of course, some downsides, too, to doing everything online. For example, non-verbal cues, which are available to an interviewer in a face-to-face interview, are absent during zoom meetings.
Can this gap be bridged by conducting additional rounds of interviews, doing more extensive background checks?
HR professionals are scratching their heads over these minutiae.
Uppal of Maruti says all hiring and evaluation has already moved online.
"We have hired a large number of people from college campuses during the pandemic.
"The entire process has been much more efficient, much easier than it was pre-Covid," he says.
"Joining and induction is also digital now.
"The verification process for checking antecedents of new joinees is in place, so we have not come across frauds."
A Nestle India spokesperson acknowledges that the pandemic has brought significant changes to the role of HR.
"Empathy and people-centric culture will continue to be an important part of the organisation even in the post pandemic world.
"There is now a stronger emphasis on mental and physical well-being, and we are also supporting our employees by providing a flexible work environment."
Matangi Gowrishankar is a seasoned HR professional associated with several companies in the auto components, IT and financial services sectors.
She points to the biggest difference between now and the earlier waves of the pandemic — rampant attrition across India Inc.
"Between the second and third waves of Covid-19, the level of attrition has risen. During the first wave, people were just happy to retain their jobs but now, attrition rates are hovering at 20-25 per cent across industries," she says.
Companies are tackling attrition, again, by using innovative means to retain talent.
Many are dangling the carrot of hybrid work in perpetuity; some are allowing WFH for women employees with small children and unlimited sick leaves; most are focused on devising programmes for greater employee engagement.
In its Q4 employment outlook, Teamlease said on January 5 that there was increased "hiring intent" in India on the back of a K-shaped economic recovery (different sectors recovering at significantly different rates).
The "Intent to Hire" metric is defined as the percentage of employers that is likely to hire employees during the quarter.
"An unprecedented churn in the technology sector (particularly in the IT and knowledge services sector and to some extent in ecommerce and technology start-ups), even while global demand for technology services from India surges, sends hiring intent soaring for these sectors," the Teamlease employment outlook said.
The intent to hire is well above 40 per cent for entry- and junior-level positions, in terms of job roles.
The maximum intent to hire is in sales at over 70 per cent, followed by IT at 61 per cent.
To retain talent, the HR function in most companies has expanded to take care of employees' mental health apart from physical wellbeing.
HR professionals say companies that care for employee wellbeing witness more "employee stickiness".
Gowrishankar says most manufacturing companies have done an "outstanding job" in ensuring their shopfloor workers, for example, are well looked after by ensuring frequent testing against the infection, providing vitamin supplements, getting them medical help through hospital tie-ups etc.
From being privileges few expected pre-Covid, these initiatives are now part of the deal.
Now, if a company is unable to offer the WFH or hybrid work option, it is likely to lose out in the war for talent, say HR experts.
Another issue that could have a significant impact on corporate India's performance is salary tweaking.
During the earlier waves of the pandemic, some Indian companies had begun evaluating whether to adjust the salary of employees who relocated to hometowns/smaller towns.
Independent consultants say many companies thought about this but have not implemented it.
The Nestle India spokesperson says the company made no changes to the benefits to employees.
"All salary commitments will be honoured as in the past and we will continue with our annual recruitment process in line with the business requirements," says the spokesperson.
"We have also put in place an ecosystem of care that includes financial, medical and wellness of our employees."
With the focus on employee retention and wellness, HR has its job cut out.