With the help of declining fuel prices, GoAir and IndiGo are expected to register profits, too.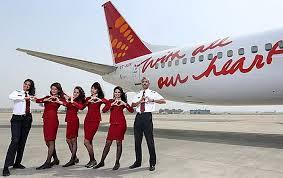 The Centre for Asia-Pacific Aviation expects SpiceJet to post a loss of Rs 240-300 crore (Rs 2.4-3 billion), excluding one-offs, for the December quarter, while rival Jet Airways is expected to post a Rs 120-180 crore (Rs 1.2-1.8 billion) profit in this quarter.
With the help of declining fuel prices, GoAir and IndiGo are expected to register profits, too.
"Overall, the quarter was a very positive and stable one," Capa said in its result estimates.
"It, however, dropped a word of caution, saying discount pricing in the March quarter could contribute to negative results and affect overall financial results for 2014-15.
Capa said domestic airlines would induct 12 planes in the March quarter and 30 more planes in 2016.
In a revised outlook for 2014-15 earlier this week, it said India's beleaguered aviation industry was starting to see some signs that could possibly mark the beginning of a structural turnaround in fortunes.
It added the sharp decline in fuel prices was a major source of relief in a market, where aviation turbine fuel was subject to some of the highest taxes in the world.
Other key contributors to the more positive outlook include an improving economic environment, and recent actions by the civil aviation ministry which suggest it is seeking to create a more enabling environment for the industry.
"India's oil companies have yet to pass on the full extent of the decline in global fuel prices; so further reductions are expected by the end of January. The decline in oil prices is perhaps the greatest single reason for the improved sentiment in the industry," the report said.
The report also said the government was playing a more pro-active role in helping the industry, like in the case of SpiceJet, where the ministry facilitated the rescue by encouraging creditors to provide some breathing space for the airline to secure an investor.
"This approach is a very welcome departure from the past and averted the closure of the airline and the potential loss of jobs and confidence," said the report.