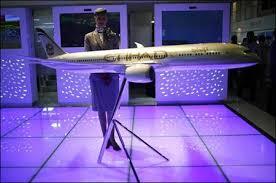 Etihad Airways will start more flights from the United Arab Emirates to India by increasing the frequency of flights to Kochi, Bengaluru, Chennai, Kozhikode and Hyderabad this summer, the country's national carrier said on Tuesday.

Because of strong demand from business and leisure travellers, a double-daily frequency will be operated to Bengaluru, Chennai and Kozhikode from today and Hyderabad from October 1, a statement released by the Etihad Airways said.

As a result, people will have the option of daytime or overnight flights and improved connections between India and key markets in the Gulf Cooperation Council, West Asia, Africa, Europe and North America, it said.

Double-daily frequencies were also introduced to Kochi route last month as well as Mumbai and New Delhi in November 2013.

The airline will utilise new Airbus A320s, scheduled for delivery this year, to accommodate much of the increased frequencies.

Larger wide-body aircraft were also introduced on selected routes in November 2013, with a three-class A340 on overnight Mumbai flights, marking the debut of Etihad Airways' First Class product on the route, and A330s on overnight Delhi flights.

Kochi flights have also been upgraded with the recent introduction of new Airbus A321 aircraft, while overnight Delhi flights will be further enhanced with three-class Boeing 777 from July 15, it said.

James Hogan, President and Chief Executive Officer of Etihad Airways, said: "As one of the largest, fastest-growing and most exciting travel markets in the world, India continues to play an important role in our growth plans.

"Last year alone, more than 885,000 people flew on our Indian services, a substantial increase of 20 per cent on the previous year."

"Subject to regulatory approvals, we will continue to expand our India operations and work with Jet Airways to accommodate strong growth and deliver much greater choice for travel to and from India."

Also included are Jet Airways flights between Abu Dhabi and Bengaluru, Chennai, Cochin, Delhi, Mumbai and Hyderabad, and Etihad Airways flights between Abu Dhabi and Ahmedabad, Bengaluru, Chennai, Hyderabad, Kochi, Kozhikode, Mumbai, New Delhi and Trivandrum.
Please click here for the Complete Coverage of Budget 2014 -15