Earnings spread for foreign investors down to 10-year low of 1.1 per cent, from 2 per cent at the beginning of the year and record high of nearly 5 per cent in 2013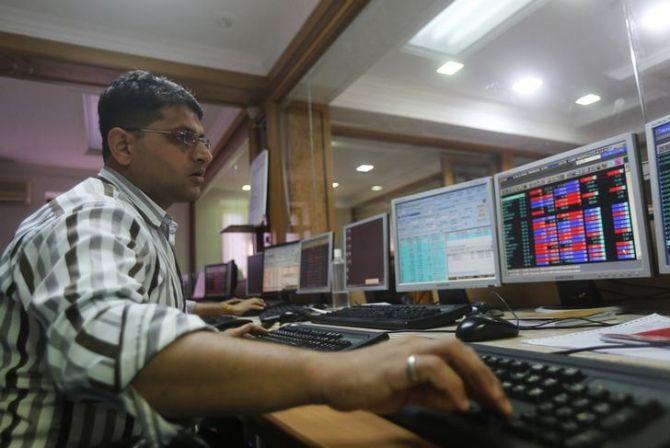 The mismatch between corporate earnings and stock prices has widened on Dalal Street, with the earnings yield for India's top listed companies now down to a decadal low of 3.5 per cent.
The figure was 4.5 per cent at the start of 2007 and four per cent a year before.
The current yield is even lower than at the end of December 2007, a week before the great market fall of 2008.
This analysis is based on the latest earnings and market capitalisation of BSE 500 index companies, which account for 90 per cent of the combined market value of listed firms on the bourse.
The earnings yield declines further to 3.3 per cent if the sample is expanded to include all frequently traded companies (1,880) which have declared their results for the quarter ended September 2017.
Earnings yield is calculated by dividing the earnings per share for the most recent 12-month period by the current market price.
So, in the current scenario, an equity investor in India would earn annual yield (or income) of Rs 3,500 for Rs 1 lakh worth of investment in BSE 500 index companies - assuming these entities distribute their entire annual profit as equity dividend.
In comparison, a similar investment in a 10-year Government of India bond would now yield annual income of Rs 7,000, up from Rs 6,500 around three months earlier.
It raises a question mark over the sustainability of the current rally in equities, as a fall in earnings yield coincides with a rise in bond yield.
In the past three months, the yield on 10-year government bond is up nearly 50 basis points, while bond yields are up by five bps in the US.
Analysts expect a further rise, driven by greater borrowing by the government here and rate hike in the US.
Historically, there is a positive correlation between earnings yields and stock market movement.
The current rally on Dalal Street was preceded by a period of high earnings yield and low bond yield in early 2013.
This gave large earnings spread to stock investors over risk-free assets.
For example, the earnings yield for BSE 500 companies had risen to a high of 7.1 per cent during the June 2013 quarter, a notch below the 7.5 per cent yield on government bonds during that period.
This, in combination with low bond yields in the US, translated into a yield spread of nearly five per cent for foreign investors in early 2013, more than double the spread in the previous three years.
This created the basis for a surge in capital inflow into India and a rally on Dalal Street from September 2013.
The earnings spread for foreign investors is now down to a 10-year low of 1.1 per cent, as against two per cent at the start of 2017.
The previous low was in the second half of 2007, when spreads had fallen to 0.3 per cent at the end of the December 2007 quarter.
Analysts attribute low yields to a combination of high stock valuations and poor corporate earnings.
"Optimism about the India growth story is at an all-time high among equity investors, resulting in record stock valuations. However, corporate earnings remain in the slow lane due to poor demand growth," says G Chokkalingam, founder & managing director, Equinomics Research & Advisory.
BSE 500 index companies are currently trading at 29 times their trailing 12-months' earnings, on an average, the highest in at least 11 years.
The broader market is even more expensive, at a trailing price to earnings multiple of 30.5.
BSE 500 companies' combined net profit (adjusted for exceptional gains and losses) was up eight per cent year-on-year during the 12 months ending September 2017, lagging the 25.4 per cent year-on-year growth in combined market capitalisation during the period.
Cumulatively, corporate earnings are up 10 per cent since the start of the current rally in 2013, while stock prices are up 115 per cent on average.
Analysts say the gap is unsustainable and either the earnings yield should rise or there would be market correction.
"Earnings yields should rise, driven by better corporate earnings; otherwise, there is no justification for the current market capitalisation. If earnings don't increase in the next six months, it will be a problem," adds Chokkalingam.
Other experts say there could be a disruption in the market only if there is a sudden spike in bond yields.
"The current rally might have been triggered by superior earnings yields and its spread over bond yields.
"But, its sustenance is largely based on liquidity, rather than incremental growth in corporate earnings.
"The current arrangement in the equity market will get disrupted only if there is a sudden spike in bond yields in the US, forcing investors to recalibrate their investment portfolio," says Dhananjay Sinha, research head, Emkay Global Financial Services.
Companies in the sample reported net profit of Rs 3.69 lakh crore during the 12 months ending September 2017, as against their current combined market capitalisation of Rs 106.6 lakh crore.
For the broader sample of 1,880 companies, net profit during the trailing four quarters was Rs 3.85 lakh crore, as against their combined market capitalisation of Rs 117.4 lakh crore currently.
Photograph: Shailesh Andrade/Reuters