In the next few days, use credit/debit cards wherever possible or download your bank's mobile banking app or a mobile wallet.
Priya Nair reports.
Illustration: Uttam Ghosh/Rediff.com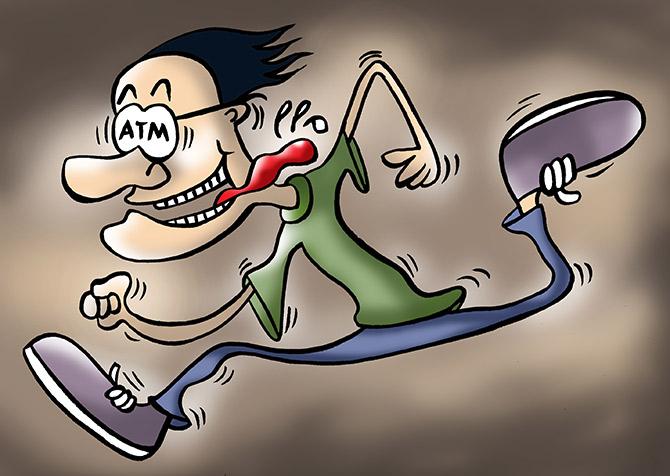 In the next few days, especially on Wednesday, you are likely to feel a little cash-strapped.
The Rs 500 to Rs 1,000 notes in your wallet will be useless and both the bank and the ATM will be closed, making any bigger grocery purchases or travelling in a taxi for longer distances would require a wad of Rs 100 notes -- something that even the ATM machines of banks have not been giving out liberally for quite some time.
In fact, some banks ATMs simply give one Rs 1,000 note, if you are withdrawing that amount.
But there are a number of ways to handle this. If you aren't technologically comfortable, this is the time to get friendlier.
With a temporary limit of Rs 2,000 on withdrawal from ATMs on one day (to be extended to Rs 4,000 in the future), you have to start transacting through the credit and debit cards for any all bigger purchases.
Almost all banks today offer mobile wallets. There are also independent third-party wallets that are accepted by many retailers, stores, even some cab operators.
For paying your maid or driver, you can withdraw the prescribed amount (say Rs 2,000 or Rs 4,000) every day till you reach the salary amount or pay them by cheque or transfer the salary into their bank accounts.
"It is a step which was waiting to happen for a long time to deal with the menace of black money," says Rahul Garg, leader (direct tax), PwC India.
But, it is not the time to panic.
Those who have notes of these denominations can deposit them in banks or post offices up to December 30.
Thereafter, these notes will have to be deposited with the RBI, with a declaration.
So, don't rush to the bank on Thursday unless you are desperate. There is a good one-and-a-half months' time.
The good news: These notes will be accepted at government hospitals, railway, bus and airline ticket-booking counters, at fuel pumps, government-run cooperative stores, milk booths, and burial grounds till November 11.
According to Reserve Bank of India guidelines, a mobile wallet can be loaded up to a maximum of Rs 10,000 a month, for non-KYC (know-your-customer) users.
But if you do the complete KYC, like you do for your bank account, the limit can be increased to Rs 1 lakh (Rs 100,000).
A bank's mobile wallet is linked to the bank account and, hence, the limit can be higher, up to the amount in the account.
But a bank's mobile wallet may not be as widely accepted as a third-party wallet.
Earlier, the RBI had asked for withdrawal of pre-2005 notes as these did not have enough security features and there was a fear of counterfeit notes being circulated.
This is another step by the government to curb black money. New notes of Rs 2,000 will be issued by February 2017. These notes are expected to have higher security features.
While switching over to card and online transactions, customers must follow basic precautions such as not sharing the PIN and transacting only through secured Web sites and Internet connections.
Avoid transacting through public networks such as WiFi connections at public spots.
After the breach of security on 3.2 million debit cards in recent months, it is best to be extra cautious about technology as well.