In the past five years, the US has seen nearly two dozen Bills on employment visas introduced without success. But this time it is different, industry sources tell Ayan Pramanik.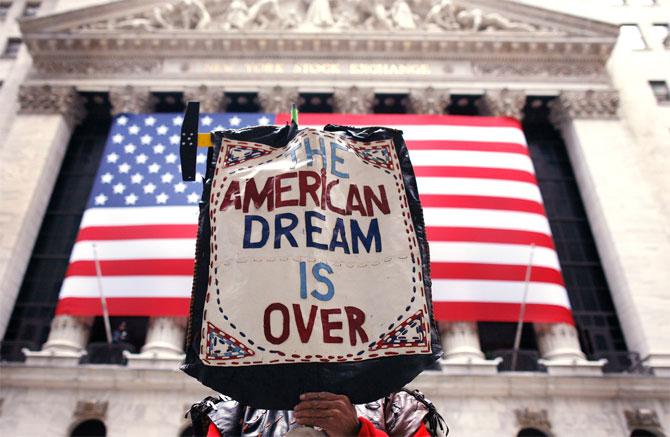 IMAGE: Irrespective of the outcome of the latest bill targeting H-1B visas, the industry is certain of a sharp increase of the minimum pay for H-1B visa-holders. Photograph: Reuters.

There have been nearly three dozen bills introduced in the United States legislature, the Congress, over the past 20 years to impose restrictions on the H-1B visa programme but only one has been made a law so far.
Now, with new US President Donald Trump's threat to issue an executive order to lower immigration of high technology talent, experts say the concerns are real, as he is delivering on the election promise that got him to the top office.
"This time, looking at the steps and statements made by Trump both before and after the presidential election, we see a lot more seriousness about passing the Bill on raising the minimum wage for H-1B visa-holders," said Raja Lahiri, partner, Grant Thornton India LLP. "There is high probability of this Bill getting passed."
In the past five years, when the US faced its worst recession and then a rebound, nearly two dozen Bills were introduced but without success. Last Tuesday, a California-based lawmaker, Zoe Lofgren, introduced one to mandate companies who employ workers with H-1B visas to double their pay to a minimum of $130,000 a year.
"The huge difference this time is the predominance of Republicans (Trump's party) in Congress and the President's will for quick change. We could be surprised at the speed with which the Bill may be passed," said Poorvi Chothani, managing partner at global immigration law firm LawQuest.
Sector analysts say Indian information technology (IT) companies have got nearly 69 per cent of the H-1B visas issued (new ones and renewals) by the US government in recent years. The share has only increased despite a consistent fee increase, since Indian companies enjoy a cost arbitrage.
"There are clear signs some implementation will be done. In the past, H-1B (reforms) was part of a comprehensive immigration Bill and that is why bipartisan support was not there," said a representative of Indian IT, requesting anonymity.
Irrespective of the outcome, the industry is certain of a sharp increase of the minimum pay for H-1B visa-holders, added the representative.