Out of nearly 30 public sector undertakings and assets under 'strategic sale' plan, only the ONGC-HPCL plan has been completed
Illustration: Uttam Ghosh/Rediff.com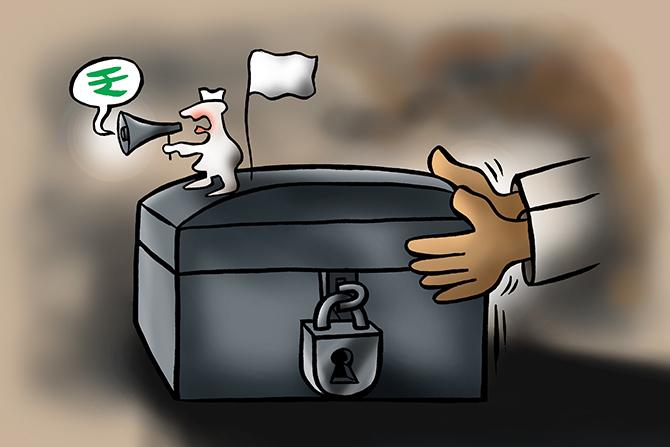 It is not just Air India privatisation where the government is struggling.
Of the approximately 30 state-owned companies, subsidiaries and standalone assets for which Prime Minister Narendra Modi's Cabinet has given approval for "strategic divestment", only one has reached fruition - that of Hindustan Petroleum Corporation's (HPCL's) acquisition by Oil and Natural Gas Corporation (ONGC) in 2017-18.
The Centre is facing headwinds with almost all other proposals due to lack of interest not just among potential private sector buyers but also among larger public sector enterprises which could buy smaller similarly-placed public sector undertakings (PSUs).
If the government cannot complete the strategic sale of Air India and a few other companies in 2018-19, meeting the divestment target of Rs 80,000 crore for 2018-19 will be a massive challenge.
Business Standard spoke to senior officials involved in the disinvestment process of various companies, and to transaction advisors from among investment banks and consultancy firms.
The assessment is not an encouraging one.
Central ministries, including the Department of Investment and Public Asset Management (Dipam), have been confident about other tracks of divestment like initial public offerings and offer for sales by listed PSUs on the stock exchanges, exchange-traded funds, and buybacks.
However, the same optimism does not extend to privatisation.
Most of the plans are stuck at the preliminary information memorandum (PIM) and expression of interest (EoI) stage, and the last date of EoIs by prospective buyers have been extended multiple times for a number of them, simply because there have been no takers.
"Selling a minority stake through the exchanges is relatively easy. The process of selling a company is expectedly a longer process.
"Once the Cabinet gives its approval, the company or asset is valued, then the financial, transaction and legal advisors are hired, the EoI is prepared, prospective buyers identified, and then the terms of sale are finalised.
"The whole process could easily take more than a year," said a government official.
"Work is going on a number of strategic sale plans, but we expect only a few of them to be completed before March 31, 2019," the person said.
The government has divided its strategic sale plans into three broad categories.
The easiest of these, by its admission, is larger PSUs acquiring smaller ones. It is under this category that ONGC acquired the Centre's 51 per cent stake in HPCL for Rs 36,900 crore last fiscal year, which went a long way in the disinvestment proceeds hitting a record of Rs 1 trillion in 2017-18.
Now there are a number of state-owned construction and real estate firms the government has earmarked to be bought by larger "similarly-placed CPSEs".
However, there is only one large construction PSU which can possibly acquire a few - certainly not all - of its smaller siblings. And that is NBCC.
Officials say talks are going on with NBCC and a few deals could be completed this year, like that of National Projects Construction Corporation, HSCC (India), and Engineering Projects (India). But that is where the good news ends.
The last date of submission of EoIs for a number of these PSUs has come and gone and no further announcements have been made.
The submission date for Bridge and Roof Co. (India) has been extended. The next category is acquisition by private sector suitors.
There are some 15 PSUs earmarked and neither the government nor transaction advisors have expressed confidence.
"The lack of EoIs for even a marquee brand like Air India showed just how dire the situation is," said an investment banker.
"The prospects for other companies like Dredging Corporation of India, Scooters India, Pawan Hans and others will be equally difficult, if not more."
An employee of a consultancy firm which works with the Centre and state governments on a number of projects said: "The privatisation process is slow, and the Centre is unwilling to make the deal attractive for potential bidders beyond a point. The reason is that every official fears that some years down the road there will be enquiries by the Central Vigilance Commission, investigative agencies and the judiciary."
"A buyer will only buy a company if it makes financial sense. Most of these PSUs have unsound business models, they have racked up years of losses and debts, and are overstaffed," the person said.
He added that there are some issues which are a clear no-go for the government, like downsizing of PSU staff.
There is perhaps an even more difficult category of strategic sale - that of standalone assets.
On tap are the sale of NMDC's Nagarnar steel plant, SAIL's plants in Salem, Durgapur and Bhadravati, and ITDC's hotels and properties in places like Puducherry, Ranchi, Jaipur, and others.
"The biggest issue here is of land. Some of these assets stand on land which belong to the state governments, which have leased it out to the PSU or central government.
"We have to work out who gets what share of profit if the land is transferred to a private sector buyer, along with the asset built on it. There is also the issue of stamp duties. In case of the assets sold by a PSU, the issue of capital gains tax will also apply," said a second government official.
On sell-off radar

Out of nearly 30 public sector undertakings (PSUs) and assets under 'strategic sale' plan, only the ONGC-HPCL plan has been completed
Officials admit Rs 800 billion divestment plan under pressure as Air India fails
Some PSU-to-PSU sales could happen in 2018-19
Few takers for outright privatisation proposals
Transaction advisors say Centre unwilling to compromise beyond a point for fear of future enquiry
Asset sales stuck due to land issues
Ready Reckoner
Company
Status
Scooters India
EoI/PIM stage. Submission deadline extended
Bridge and Roof Co. (India)*
EoI/PIM stage. Submission deadline extended
Projects & Development India*
EoI/PIM stage
Pawan Hans
EoI/PIM stage. Submission deadline extended
Bharat Pumps & Compressors
EoI/PIM stage. Submission deadline extended
Central Electronics
EoI/PIM stage
Hindustan Prefab*
EoI/PIM stage
Bharat Earth Movers (BEML)
EoI/PIM stage. Plans deferred for now
Hindustan Newsprint
EoI/PIM stage. Submission deadline extended
Ferro Scrap Nigam
EoI/PIM stage. No govt announcement on further action
Hindustan Fluorocarbons
EoI/PIM stage
Cement Corporation of India
Engagement of transaction advisor. No govt announcement on further action
NMDC's Nagarnar steel plant
Plant not yet commissioned. Chhattisgarh has asked Centre to reconsider sale
SAIL's Bhadravati, Salem, and Durgapur units
EoI date for Durgapur extended to April 27; EoI for others yet to be issued
National Projects Construction Corporation*
EoI/PIM stage. No govt announcement on further action
Air India
Last date for EoI extended to May 31; intimidation to qualified bidders on June 15
HSCC (India)*
EoI/PIM stage. No govt announcement on further action
Engineering Projects (India)*
EoI/PIM stage. No govt announcement on further action
Dredging Corporation of India
Shipping ministry opposes proposal
HLL Lifecare
Engagement of asset valuer
Indian Medicines Pharmaceutical Corporation
Date for hiring transaction advisor extended
Karnataka Antibiotics & Pharmaceuticals
Date for hiring transaction advisor extended
Hindustan Petroleum*
Govt's 51% stake bought by ONGC for Rs 369 billion in FY18
Units/JVs of ITDC
Engagement of transaction advisor for hotels in Puducherry and Ranchi
Units/JVs of ITDC
Engagement of transaction advisor for hotels in Puducherry and Ranchi
Units/JVs of ITDC
Engagement of transaction advisor for hotels in Puducherry and Ranchi
Units/JVs of ITDC
Engagement of transaction advisor for hotels in Puducherry and Ranchi
EoI: Expression of interest
PIM: Preliminary information memorandum
*denotes companies earmarked for acquisition by larger 'similarly placed PSUs'
Source: Dipam, govt and PSU portals, govt sources