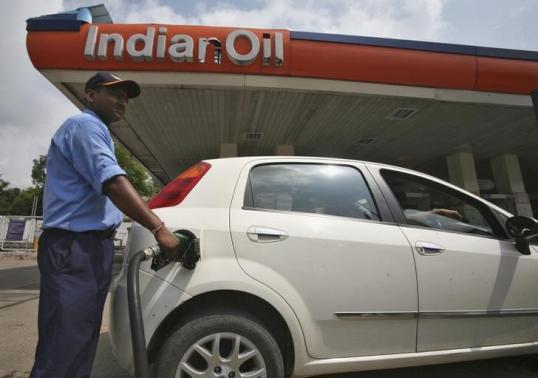 India's scrapping of diesel price controls opens the door for private sector refiners to return to a domestic retail market from which they have been excluded for years because they could not compete with state firms.
But, before they rush to reopen old filling stations that have been gathering dust or used to store grain, they want to make sure that Prime Minister Narendra Modi's commitment to free markets will survive any serious spike in oil prices.
Reliance Industries plans to revive its old business cautiously, while Total of France will allow Mangalore Refinery and Petrochemicals Ltd to sell fuel through its modest distribution network.
In the boldest reforms since his landslide general election victory in May, Modi lifted diesel controls on Saturday, taking advantage of a 25 percent fall in global oil prices since June to make the move.
At a stroke, he knocked $6.5 billion off the government's energy subsidy bill, while handing a 6 percent discount to drivers and truckers who had grown fed up with monthly hikes in regulated prices.
Diesel makes up nearly half of fuel demand in Asia's No 3 economy. Consumption is set to rise as Modi seeks to launch an investment-led economic recovery. T
he top three state refiners, Indian Oil Corp, Bharat Petroleum Corp and Hindustan Petroleum Corp, between them sell nearly all of the of the 70 million tonnes of diesel consumed annually in India.
RELIANCE RESTARTS
Reliance, operator of the world's biggest refining complex at Jamnagar in Gujarat, plans to restart about 1,500 of its filling stations, said a person familiar with the company's retail operations.
The stations have been shut since 2008, as global oil prices surged towards $150 a barrel and the government's subsidy to state fuel retailers knocked privately-owned retailers out of the market.
Reliance will not make significant investments to expand its fuel retail operations and will wait for "clarity and stability" of policy, said this person.
Royal Dutch Shell, which has a licence to run 2,000 filling stations in India but now operates only 78, has no plans to expand retail operations in India following the diesel deregulation, said a company executive.
The company would "wait and watch" to see how the government would react if crude prices rise, before taking a call on expansion, said the executive, who did not want to be named due to sensitivity of the issue.
Standard & Poor's Ratings Services said on Monday that any significant rise in global oil and gas prices would test the government's resolve on deregulation policies that have been rolled back in the past.
PRICE WAR
Total, Europe's biggest refiner, is one of the few companies to see retail opportunities in India.
It is in talks with the state-run Mangalore Refinery to boost its presence. "We are in talks with Total for selling fuels through their 50 LPG stations.
Initially we were planning to market petrol. Since diesel is deregulated, we will market that as well," said MRPL's head of refining Vijay Joshi.
An oil ministry official said MRPL's proposal to sell fuel through Total's network would be cleared in 10 to 15 days.
In its first foray into the domestic market in 2005, Reliance quickly won market share with modern filling stations and slick loyalty schemes.
This time around, the state retailers are not worrying - yet. Private refiners now sell 700,000-800,000 tonnes per month of fuel, mainly diesel, to state refiners.
It will take as much as two years for them to build up their retail infrastructure so that they can market these volumes directly, said a senior executive at IOC, India's biggest refiner and fuel retailer.
This is likely to lead to significant, if gradual, shifts in market share, but not to increases in export volumes, he said.
"Public sector companies will have to focus on improving service, providing incentives to customers and optimising logistic costs," said the Indian Oil executive. But, once the private players achieve scale, competition will intensify, he added: "There is going to be a price war."
(Additional reporting by Aman Shah in Mumbai)