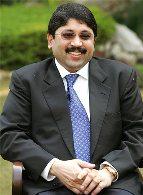 The government on Tuesday faced fresh attack from the Opposition on corruption when the Bharatiya Janata Party asked Textiles Minister Dayanidhi Maran to answer charges that his family-owned Sun TV Network was a beneficiary of pay-offs by a Malaysian company which benefited from equity sold by Aircel.
"There are new scandals in the UPA government everyday. A new scandal is on the verge of being exposed. The cupboard of corruption of the UPA is overflowing and more skeletons are dying to come out," BJP chief spokesperson Ravi Shankar Prasad said reacting to a media report in this regard.
However, Congress washed its hands off the controversy surrounding Maran, the former Telecom Minister.
"If a question has been asked from the Textiles Minister Dayanidhi Maran, obviously he will be the best person to answer it," party spokesman Manish Tewari told reporters in reply to a volley of questions on the issue.
Incidentally, Maran had a lengthy meeting with Prime Minister Manmohan Singh last night after the meeting of the Cabinet Committee on Political Affairs.
At the same time, Tewari indicated that irregularities, if any, during Maran's tenure could be looked into by the JPC which is looking into the 2G spectrum allocation scam. Tewari is also a member of the JPC. Prasad alleged that during Maran's tenure as Telecom Minister, there were some financial anomalies which benefited companies owned by his family.
"We know Maran's family owns Sun TV network which also has Direct-to-Home (DTH) service. During his tenure as Telecom Minister the FDI norm was changed and the telecom sector FDI norm was increased to 74 per cent. Aircel, a telecom company which only had a license for Tamil Nadu, later got license for 14 new areas," Prasad said.
The BJP alleged that 74 per cent stake in Aircel was purchased by a Malaysian company Maxis Communication when Maran was Telecom Minister.

"Mr Maran, will you please explain if Maxis Communication company has made any investment in Sun DTH company or any other of your family-owned companies? Secondly, was this investment done through Astro Group company, which is a subsidiary of Maxis Communication?" Prasad asked.

The BJP also sought to know from Maran whether the investment made in Sun Network by Maxis Communication was done after the latter had bought 74 per cent equity of Aircel.

"He should also clarify if in any way a foreign investor has invested in Sun network when Maran was a minister. Is there a conflict of interest here or not? As a responsible opposition party we are raising important questions purely in national interest," Prasad said.

He also asked Prime Minister Manmohan Singh to clarify his position on the issue. "The Prime Minister must clarify his position on this issue. As you all know that the authority of determining pricing of spectrum was taken out of the purview of Group of Ministers on insistence of Dayanidhi Maran," Prasad said.

Tewari said there is already a JPC to deal with "aberrations and irregularities, if any that might have taken place. JPC has been given the mandate by Parliament to examine the alleged irregularities in Telecom sector since 1999 to 2008."

Replying to questions whether the JPC should look into allegations against Maran and he should appear before it, Tewari said that the panel could go into the issue on its own or after any complaint "obviously if the thing appears in public space and if JPC requires".