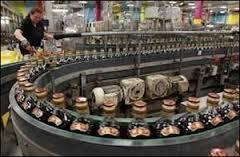 Succeeding in its second attempt to gain controlling stake in United Spirits, world's largest liquor maker Diageo Plc has acquired an additional 26 per cent shares in India's largest alcoholic beverages company for Rs 11,448.91 crore (Rs 114.48 billion).

UK-based Diageo paid Rs 3,030 for a share of United Spirits Ltd, more than double of Rs 1,440 it offered in the previous bid last year.

Shares of USL, the flagship company of Vijay Mallya-led UB group, today closed at Rs 2,486.55 a share, up 2.93 per cent from its previous close on BSE.

Diageo through its wholly-owned subsidiary Relay BV has accepted the tender of 37,785,214 shares in United Spirits Ltd at a price of Rs 3,030 per share under the tender offer announced on April 15, Diageo Plc said in a statement.

The shares tendered and accepted by Diageo are in the process of being transferred to Relay B V and represent 26 per cent of USL's issued share capital, it added.

"Diageo, therefore, will have a total interest of 54.78 per cent in USL acquired for a total consideration of Rs 18,023.14
crore," it added.
Diageo Chief Executive Ivan Menezes said: "India has now become one of Diageo's largest markets and will be a major contributor to our growth ambitions."
USL is the leading player in the attractive Indian spirits market with great brands, a unique route to consumer and talented people, he added.
"We can now combine that strong platform with Diageo's strengths to create a compelling future in India for Diageo, USL and the Indian spirits industry," Menezes added.
Diageo's earlier Rs 5,441-crore (Rs 54.41 billion) offer for 26 per cent stake had received a tepid response from public investors.
Of 3.8 crore (38 million) shares of United Spirits that were on offer, shareholders tendered just 64,169 shares and only 58,688 scrips were accepted.
Diageo had offered to buy shares at a price of Rs 1,440 per piece.
Diageo, which sells brands such as Smirnoff vodka and Johnnie Walker whiskey, had announced in 2012 it would pick up a 53.4 per cent stake in USL in a multi-structured deal.
USL brands include Signature, Bagpiper, Antiquity and Royal Challenge.