MGNREGA scheme: A significant Rs 17,370.58 crore has been carried forward over to the next financial year as unpaid dues as demand for work continued unabated for the scheme in rural areas.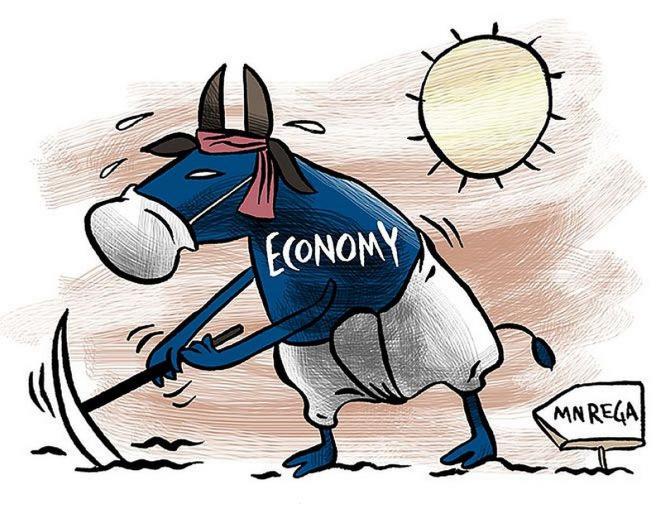 The financial year 2000-21 has been a landmark year for the flagship MGNREGA scheme during FY21 in many respects.
Pushed by the ever-increasing stream of migrants returning to their villages amid the harsh lockdown, MGNREGA turned to be their main saviour by not only providing some sort of employment but also saving livelihoods that otherwise would have been greatly distressed.
Even after the lockdown was lifted in June, MGNREGA continued to attract casual workers as the overall economy took time to come back on tracks.
And now, with the second wave of Covid threatening to derail economic activity in cities, MGNREGA could come to the rescue in rural areas once again as a fresh wave of migration is anticipated.
In FY21, as many as 110 million individuals got work under the scheme, the highest since its inception in 2006.
Around 3,900 million persondays of work were generated under the scheme, which was also the highest since its launch.
The money spent under the scheme for wages and materials alongside administrative expenses was over Rs 1.1 trillion of which a staggering Rs 78,000 crore went towards payment of wages, which was in itself a record.
Data shows that about 8.3 million works were taken up and created under the scheme in FY21--around 11.26 per cent more than in FY20.
Around 7.8 million households completed 100 days of work under the scheme, while the average days of employment provided was a high 52 days, much higher than the 40-42 days of work provided in the previous few years.
Surprisingly, West Bengal, which has been facing all-round flak in the election season for not implementing central schemes, did commendably well in implementing MGNREGA in FY21 or spending the funds allocated for the same.
In fact, data shows that when it comes to central schemes like the Mahatma Gandhi National Rural Employment Guarantee Act, WB has been a top performer in 2020-21 (FY21), at a time when Covid-19 had rendered millions jobless.
The state provided work to 11.8 million people in FY21 — the highest in the country — and was among the top states in spending money under the scheme in FY21.
It spent around Rs 10,403.13 crore in MGNREGA, next only to Uttar Pradesh and Andhra Pradesh, when it came to spending funds allocated under the scheme.
But not everything was perfect with MGNREGA in FY21 even as the scheme functioned smoothly.
Unpaid dues remain
Despite a hefty jump in revised projections for spending under MGNREGA to Rs 1,10,829 crore for financial year 2020-21 in the Union Budget, a significant amount Rs 17,370.58 crore has been carried forward over to the next financial year as unpaid dues as demand for work continued unabated for the scheme in rural areas.
Experts said this will also mean that from the current year's Budget allocation of Rs 73,000 crore for MGNREGA in 2021-21, at least 24 per cent will go towards clearing of pending dues.
Of this, pending dues of FY21 as on April 14, 2021, the component of pending wages is around Rs 1,555.29 crore (just around nine per cent), while the bulk relates to material component, estimated to be around Rs 15,444.56.
The balance is pending administration expenses.
"In the last five years on an average, over 20 per cent of the budget has been used to settle pending liabilities of previous years.
"If we expect the same in the coming financial year, then essentially about Rs 60,000 crore will be left to generate employment," a statement from People's Action for Employment Guarantee (PAEG) said sometime back.
"This year, the pending wages will be much higher than previous years, and will further burden the rural population.
"Since, most rural households have exhausted their savings, a delay in getting paid their wages will have its own consequences, and could compel them to take loans provided at usurious rates," M S Raunaq, secretary, PAEG, had told Business Standard.
In FY21, also out of the hefty Rs 1,11,500 crore allocated as per the revised estimate, around Rs 13,760 crore was spent on clearing pending dues from the previous year.
Therefore, despite an almost 81.3 per cent jump in revised estimates for MGNREGA in 2020-21 from the Budget Estimates, due to Covid-related demand for extra work from rural areas, actual funds available for spending on the scheme this year were about Rs 98,000 crore.
Delayed payments continued to be a source of worry at the end-user levels.
Though the Centre has hastened the fund release and nowadays, as per its own records, over 95 per cent of the dues are released from its side within 15 days of order, which is as per norms, it is at the bank and final distribution level that the process drags.
A 2018 survey by LibTech India among 1,947 MGNREGA workers in Andhra Pradesh, Rajasthan and Jharkhand between September and November 2018 showed that almost 45 per cent of the respondents, who are primarily poor casual labourers, had to make multiple visits to a bank to get their last withdrawal.
The survey was done to assess the hurdles workers face in accessing their wages after they have been credited is what is referred to as 'last mile challenges'.
The survey has been supported by the Research Centre at Azim Premji University, Bangalore.
LibTech India is a group of social scientists, activists, engineers, and data scientists, who have been working on various aspects of the Mahatma Gandhi National Rural Employment Guarantee Act (NREGA) across several states since decade.
It found that 40 per cent of respondents who used the Customer Service Points or Banking Correspondents had to make multiple visits due to biometric failures at least once in their last five transactions.
"Rural banks tend to get very crowded. This, and the fact that banks are located far away from panchayats, implies that on many occasions, MGNREGA workers have to make multiple trips to withdraw their wages.
"Since many users had to make multiple visits for a single withdrawal, time and costs increase based on the number of such visits," the report said.
The survey estimated that the average cost incurred by an MGNREGA worker to visit post offices to withdraw wages in AP, Rajasthan and Jharkhand is the lowest at Rs 6, while in comparison it costs Rs 31 to visit a bank, Rs 11 to visit a Customer Service Point (CSP) or banking correspondent (BC) and Rs 67 to go to an automated teller machine (ATM).
The survey also found that awareness about banking norms and rights was overall very low among MGNREGA workers.
For example, the survey found that nearly 75 per cent of all the respondents did not know if they could transact in any bank branch and they even didn't have reliable information on wage credit.
It also found that around 36 per cent of the workers needed to visit the bank to find out about wage credit and about a quarter of them were misinformed about wage credit and so had to make multiple visits just to find out if their wages had come.
Clearly, when it comes to MGNREGA, despite hefty fund allocation and creating of work which is acting as a great shield for the rural poor during the current Covid-19 pandemic, lot more needs to be done.
MGNREGA in FY21 in numbers
Approved Labour Budget: 3,833.3 million persondays
Persondays generated: 3,890.1 million
Avg days of employment provided/ households (HH): 51.47
Average wage rate: Rs 200.78/day
Total households worked: 75.6 million
Total individuals worked: 111.9 million
Total expenditure: Rs 110,827.43 crore
Wages paid in total exp: Rs 77,702.10 crore
Materials paid in total exp: Rs 29,347.14 crore
% of payments generated in 15 days: 97.61
Source: MGNREGA website