Fearing customers would not shop this festive season like they usually do, retailers have cut their buying from apparel suppliers by 10-15 per cent for the coming Diwali season. Some have cut their buying of apparel by almost 20 per cent.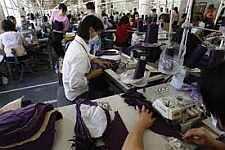 They'd experienced dull sales during spring this year. And, last year, retailers witnessed stagnancy during Diwali sales compared to the previous season; only some traditional items such as trousers and shirts had witnessed good sales.

Domestic demand for apparel has been hit due to the current slowing in the economy; high inflation is also hurting consumption.

"Currently, the middle class man has lower disposable income, which has impacted consumer spending. This has impacted retailers in a big way," said Nikhil Chaturvedi, managing director (MD) of Provogue, an apparel retail chain. His company has cut on production of apparel, with fabric stock rising in the factory, awaiting a demand recovery.

Retailers are also playing around with buying strategy. "More frequent, longer duration and higher discount sales have spoilt consumers' habits and they now only come to shop during the end-of-season sales," said Rahul Mehta, president of The Clothing Manufacturers Association.

The response to recent off-season sales was good but this had to be preponed and kept open for a longer period to get rid of excess inventory. Retailers increased discounts at the cost of margins to generate liquidity.

"The sale period is the only time when retailers are witnessing footfalls; people are also planning their purchases in this fashion. Retailers don't have a choice but to extend their sales, as it ensures constant cash flow," said Mitesh Shah, vice-president (finance and corporate affairs) of Mandhana Industries.

Usually, retailers sell half their stock during the end-of-season sale but with consumer sentiment low due to the overall slowdown, they are being forced to sell around 65 per cent of their apparel at this period's sales, bringing down their realisation.

"Retailers are changing their buying strategy and are very cautious. They are buying in tranches and choose to buy closer to the season," said Harminder Sahni, founder and MD of Wazir Advisors.