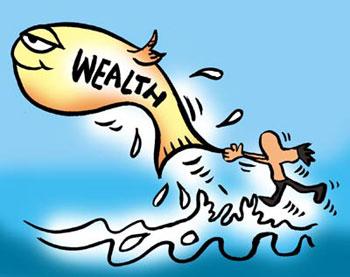 Falling sales since demonetisation has alarmed CEOs, who want to save cash till the economy recovers.
The Indian corporate sector, looking forward to a rate cut on Wednesday, is facing a double whammy of high interest rates and falling sales due to demonetisation.
Chief executive officers said they would now wait to take investment decisions till the economy improves, by April next year.
"The credit policy comes in the most unusual of circumstances and the Reserve Bank of India's decision to keep rates unchanged reflects all the current uncertainties. The US Fed's pending decision and the OPEC (Organisation of Petroleum Exporting Countries) meeting seems to have weighed in heavily, beside the unprecedented effect of demonetisation," said Harsh Goenka, chairman, RPG Enterprises.
"A rate cut, however, is not too far off, as it becomes increasingly unavoidable with inflation being contained and a lot of cash within the banking system. I would expect it to happen sooner than later," Goenka added.
Harsh Mariwala, chairman of consumer products maker Marico, said a rate cut would have acted as a balancing factor at a time when consumer and retail activity has been impacted due to demonetisation.
"It will now be a slow process of recovery as remonetisation pans out," he said.
The demonetisation of Rs 500 and Rs 1,000 notes came at a wrong time for the private sector, which wasn't investing in new projects anyway.
Falling sales since demonetisation in the past one month has alarmed CEOs, who want to save cash till the economy recovers.
The real estate, advertising and consumer durables sectors, and two-wheelers, cars and tractor sales are the worst hit.
Rakesh Biyani, joint managing director, Future Retail, said as so much money had gone out of the system, it had become a worrying factor.
"I hope the government would give some stimulus to boost demand," he said.
CEOs of real estate companies, who were expecting a rate cut of 25 to 50 basis points, are a disappointed lot.
"It is a disappointment for all the industries including real estate. For developers to cut prices, their cost of funding should come down first," said Rajeev Talwar, CEO at DLF, the country's largest developer.
The RBI's decision (of not cutting rates) will accentuate the liquidity conditions of property developers, barring a few large ones, Talwar said.
"Most of the small- and medium-sized companies have already asked for restructuring of their loans," he said.
Niranjan Hiranandani, managing director, Hiranandani Communities, said things were not looking up anyway for the sector and the RBI's decision wasn't going to help the sector.
"The RBI governor was saying they have cut rates by 175 basis points, but banks have not passed on the rates. The realty sector needs a booster," Hiranandani added.
"A rate cut could have been encouraging at this moment," Shishir Baijal, chairman & managing director, Knight Frank India, said. "It is disappointing that the RBI decided against it. We were expecting a 25-basis point cut, which could have given an impetus to the beleaguered real estate sector."