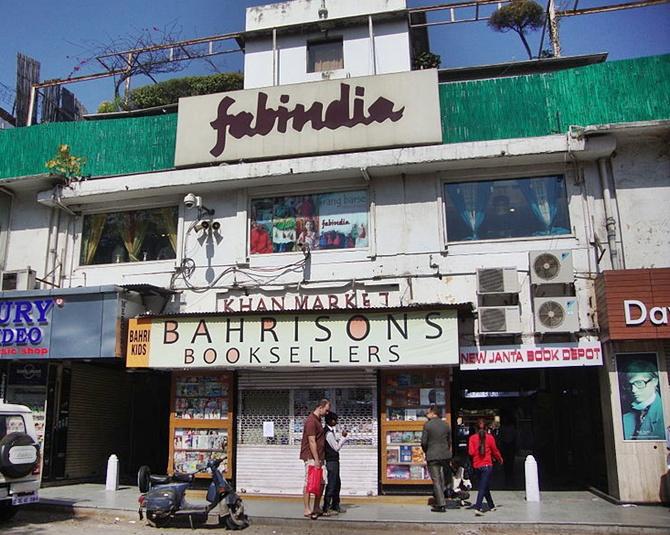 Image: Khan market, India's costliest retail hotspot. Photograph: Ekabhishek/Wikimedia Commons
New Delhi's upscale Khan Market continues to be the most expensive place to hire a shop in the country, even though its ranking worldwide has dropped by three notches to 31st position.
"India's Khan Market has slipped in global ranking for retail main street locations by three spots to be ranked at 31 from its previous position of 28," property consultant Cushman & Wakefield said in a statement.
"Khan Market in NCR, which is the most expensive retail location in India, saw no change in rental from the last year, remaining on an average rental of Rs 1,250/sq ft a month," it added.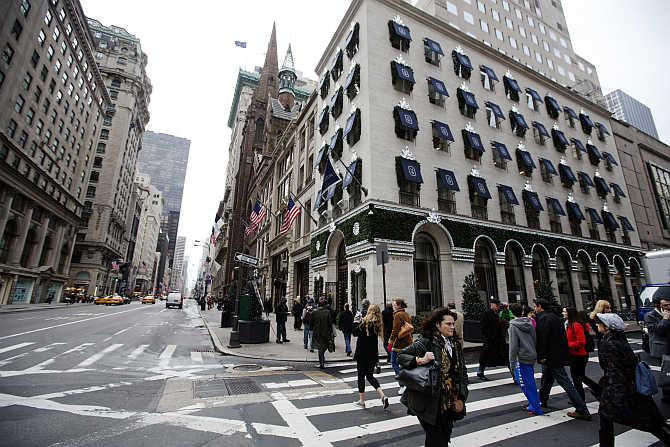 Image: Fifth Avenue in New York. Photograph: Lucas Jackson/Reuters
The fall in ranking is due to fluctuation in rupee value against the US dollar. C&W, in its annual report 'Main Streets across the World 2014' ranked New York's Upper 5th Avenue as the most expensive location in the world overtaking Causeway Bay in Hong Kong.
In the list of 65 most expensive retail locations, Paris' Avenue des Champs Elysées ranked third while London's New Bond Street and Sydney's Pitt Street Mall were at the 4th and 5th positions respectively.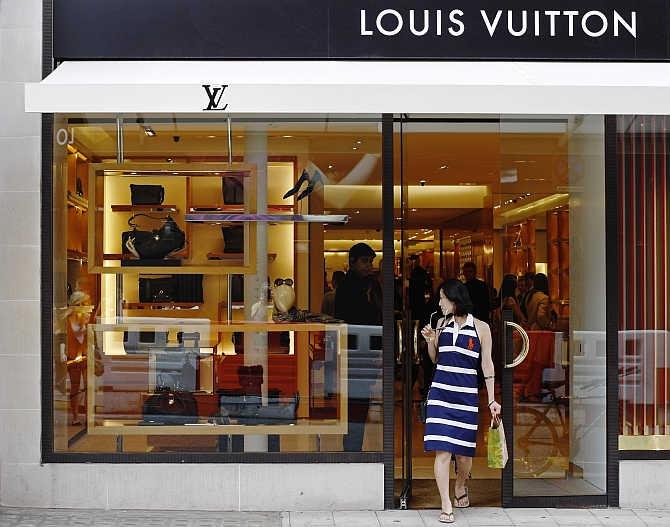 Image: A Louis Vuitton shop on New Bond Street in London. Photograph: Luke MacGregor/Reuters
Khan Market was ranked 10th in Asia Pacific ranking. In India ranking, the top three positions were occupied by retail markets of New Delhi with Khan Market being most expensive at Rs 1,250 per sq ft a month.
Khan Market did not see any change in rentals for the second year in a row due to non-availability of retail space in the location.
Connaught Place (Rs 780/sq ft a month) ranked second in the India survey for most expensive retail locations. CP recorded a rise of 4 per cent in rentals y-o-y.
"South Extension in New Delhi and Linking Road in Mumbai were jointly on third place of the survey with retail rentals of INR 750/ sf/mth respectively," C&W said.
The report also revealed that Pune's JM Road recorded the highest year–on–year increase in rental values of about 8.5 per cent over last year on account of continued activities in the location. C&W's report 'Main Streets Across The World' provides a detailed analysis of retail property rental performance across world.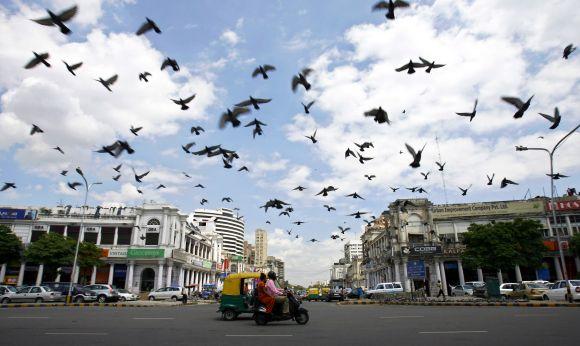 Image: Connaught Place, New Delhi. Photograph: Reuters
Commenting on the report, C&W executive managing director South Asia Sanjay Dutt said: "Retailers have largely been active in leasing spaces on main streets as there have been limited quality options available to them in malls, which have also witnessed limited supply."
He expected demand for Indian retail real estate to continue showing an upward movement owing to positive economic sentiments and increased consumer confidence.
"This is expected to reflect in greater uptake of space in the coming months. However, the demand growth is expected to be in emerging retail markets where retailers are looking at reaching out to larger target audiences," Dutt said.