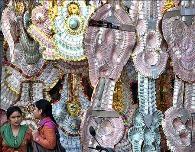 Delays in execution of mega infrastructure projects has seen a massive Rs 52,446 crore jump in their original cost estimates.
The cost escalation has gone up by 36 per cent from Rs 1,45,271 crore to Rs 1,97,716 crore as on May 31, 2012, official figures state.
The cost overrun pertains to 28 power projects, 36 railway projects and 84 schemes of Ministry of Road Transport and Highways (MoRTH).
The maximum cost overrun pertains to Railways where "the total original cost of 36 projects was reported by the authorities at Rs 25,089 crore, which is now anticipated as Rs 62,483 crore," it said.
The delayed projects include Udhampur-Srinagar-Baramulla rail line in Jammu & Kashmir where the project cost escalated by a massive 700 per cent to Rs 17,500 crore with time overrun calculated at 201 months. It was originally approved in March, 1995.
Likewise, Jiribam to Imphal rail project in North-East, approved in April 2003, saw its cost increasing 510 per cent increase to Rs 3,716 crore.
As far as power projects are concerned, "the total original cost of 28 projects was Rs 86,681.8 crore and the anticipated cost of completion is Rs 99,654 crore, implying a cost overrun of Rs 12,972.3 crore," the figures state.
Besides, MoRTH saw cost of its 84 road projects going up by Rs 2,078 crore to Rs 35,578 crore which included many projects in North Eastern areas besides those delayed due to late green clearances.
When contacted, a senior MoRTH official said many of the projects stuck for grant of forest clearances were likely to be expedited now as Ministry of Forest and Environment (MoEF) has cleared as many as 80 files pertaining to highways projects.
Road Transport Minister C P Joshi recently took up the matter of forest clearances for the projects with the MoEF minister Jayanthi Natarajan.
Meanwhile, Prime Minister Manmohan Singh earlier this month announced relaxation of norms for transfer of government land to any other entity to remove bottlenecks and speed up public-private partnership (PPP) projects.