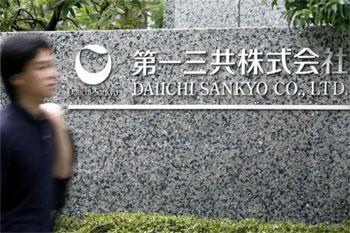 Japanese drug maker Daiichi Sankyo on Monday said its board has approved selling a part or entire 9 per cent holding worth over Rs 22,000 crore (Rs 220 billion) in Indian drug major Sun Pharmaceutical.
Daiichi got around 9 per cent stake in Sun Pharma following the merger of Ranbaxy with the Indian pharma major.
"The board of directors of Daiichi Sankyo Company Ltd approved a resolution on April 20 to sell entire or part of its holding of Sun Pharmaceutical Industries Ltd shares," the Japanese firm said in a statement.
In the event of Daiichi Sankyo selling only part of its stake, it won't remain "a major shareholder" in Sun Pharma although its existing business partnership with the Indian firm will continue.
At today's closing price of Rs 1,044.10 of Sun Pharma, Daiichi's stake is worth around Rs 22,445 crore (Rs 24.45 billion).
Last month, Sun Pharma had announced completion of merger of Ranbaxy with itself, almost a year after announcing the $4-billion deal.
As part of the deal, Ranbaxy shareholders were to receive 0.8 Sun Pharma shares for every Ranbaxy share they held.
Daiichi Sankyo, which had acquired a majority stake in Ranbaxy in 2008 for around Rs 22,000 crore, held 63.4 per cent in the Gurgaon-based firm at the time of the merger.
"From the perspective of the improvement of corporate value, Daiichi Sankyo has performed a review of the Sun Pharma shares and reached a conclusion to sell the shares entirely or partially," it said.
Daiichi Sankyo said it will make an announcement about the impact of any gain or loss on the sale of Sun Pharma shares when results for 2014-15 are announced.
The merger with Ranbaxy has fortified Sun Pharma's position as the world's fifth largest specialty generic pharma firm and the top-ranking domestic one with a significant lead in the market share.
© Copyright 2021 PTI. All rights reserved. Republication or redistribution of PTI content, including by framing or similar means, is expressly prohibited without the prior written consent.