-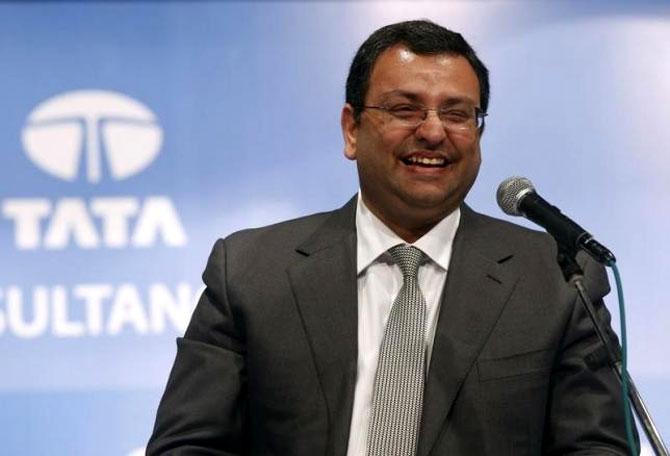 The salary boost for Mistry came after the company earned an income of Rs 13,206 crore (Rs 132.06 billion) for FY15 as compared to previous year's Rs 5,429 crore (Rs 54.29 billion)
With a remuneration of Rs 16.25 crore (Rs 162.5 million), Tata Sons Chairman Cyrus Mistry is now among the top-paid chief executives in the country.

Mistry got this package from the unlisted holding company of the Tata group for financial year 2014-15, or FY15.
It includes a commission on the profits of Tata Sons.
Though Mistry does not make it to the elite club of the top 10 highest paid India Inc leaders, he will be among the next 10.

A Tata Sons spokesperson said compensation of directors was internal to the company.
"All we can inform you is that, like in other companies, directors of Tata Sons, including the chairman, get a commission," the spokesperson said.

Tata Sons, which earned a record profit of Rs 9,062 crore (Rs 90.62 billion) in FY15, paid Rs 11 crore (Rs 110 million) as commission on profits of the company (0.10 per cent of profits) and Rs 5 crore (Rs 50 million) as salary for the year to Mistry, Tata Sons' annual filings with the government show.

The ceiling, according to Section 198 of the Companies Act 2013, on the rate of 10 per cent of the profits, would be Rs 1,076 crore (Rs 10.76 billion), the company said.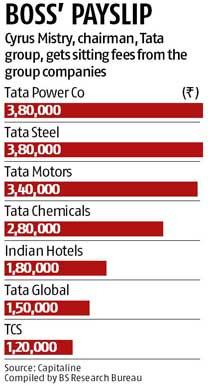 The salary boost for Mistry came after the company earned an income of Rs 13,206 crore (Rs 132.06 billion) for FY15 as compared to previous year's Rs 5,429 crore (Rs 54.29 billion).

It includes dividend income of Rs 11,733 crore (Rs 117.33 billion) and brand equity subscriptions of Rs 435 crore (Rs 4.35 billion).

Tata Sons' cash kitty was boosted mainly by a special dividend from TCS -- the best performing company in the group.

Apart from the sitting fees he draws as a director, Mistry does not have any salary or commission from other listed entities of the Tata group.

Mistry's family owns 18.5 per cent stake in Tata Sons. Hence, it received Rs 120 crore (Rs 1.2 billion) as dividend income.

The company distributed a whopping 1,600 per cent dividend (including a special dividend), or Rs 647 crore (Rs 6.47 billion), to its shareholders for the year.

Tata trusts own 67 per cent of stake in Tata Sons apart from an assortment of Tata companies which own the rest of the holding company's shares.

Apart from Mistry, commission was also paid to non-executive directors, R Gopakrishnan (Rs 75 lakh or Rs 7.5 million), Ishaat Hussain (Rs 90 lakh or Rs 9 million), Vijay Singh (Rs 90 lakh or Rs ) and Harvard Dean Nitin Nohria (Rs 1.2 crore).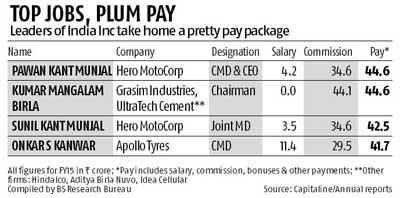 The company said it has adopted a new remuneration policy in FY15 -- but did not give any detail.

The other top earners among India Inc leaders include Kalanithi Maran and Kaveri Maran, who earn the highest among the lot at Rs 61.27 crore (Rs 612.7 million), each, including a massive bonus, followed by Pawan Munjal and Kumar Mangalam Birla at Rs 45 crore each.

Birla takes home only commission on profits of Ultratech and Grasim but does not draw any salary.

Mukesh Ambani, chairman, RIL, has voluntarily capped his salary at Rs 15 crore (Rs 150 million) from the company but earned a substantial dividend income based on his 46 per cent stake in the company.
Image: Cyrus Mistry. Photograph: Reuters