Tata Steel on Wednesday demanded that import duty on iron ore be cut to zero for rescuing the domestic industry which is facing scarcity of the raw material and regulatory hurdles.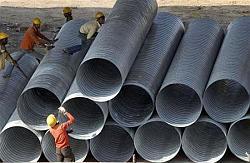 "The Indian steel industry is facing problems due to shortage of iron ore and continued delays in project approvals. The industry will benefit from proactive actions on these fronts in the Union Budget," Tata Steel managing director H M Nerurkar told PTI.

He said the first six months of the current fiscal have seen 40 per cent jump in steel imports and in order to protect interests of the domestic industry, the Budget needs to revisit last year's hike in excise duty and take steps to discourage dumping of products in India.

"In line with the Government's policy of reducing the import duty on raw materials for making steel, import duty on steel grade limestone, dolomite (which is presently 5 per cent) and iron ore (which is currently 2.5 per cent) should also be reduced to zero," Nerurkar
said.
He added given the priority accorded to infrastructure in the 12th Plan, and "the expectation that the private sector would contribute half of the envisaged investment of Rs 50 lakh crore (Rs 50 trillion), the Budget should also look at introducing special incentives to encourage capital goods industries".
Finance Minister P Chidambaram is scheduled to present Budget 2013-14 on February 28.
The domestic industry is battling with a number of problems including raw material security after a ban on iron ore mining in some parts of key producing states on concerns over environmental issues and illegal mining.
Also steel projects, including those planned by ArcelorMittal, Posco and many others, worth around Rs 300,000 crore (Rs 3 trillion) could not take off because of various issues like land acquisition, delay in environmental clearances, among others.
India's total steel making capacity, including that of the secondary producers, at the end of 2011-12 stood at 89.29 million tonnes per annum (MTPA) and is projected to expand to 200 MTPA by 2020.
© Copyright 2021 PTI. All rights reserved. Republication or redistribution of PTI content, including by framing or similar means, is expressly prohibited without the prior written consent.