The government plans to construct cruise terminals in Mumbai, Goa, Mangalore, Kochi and Chennai.
Rediff.com's Prasanna D Zore reports.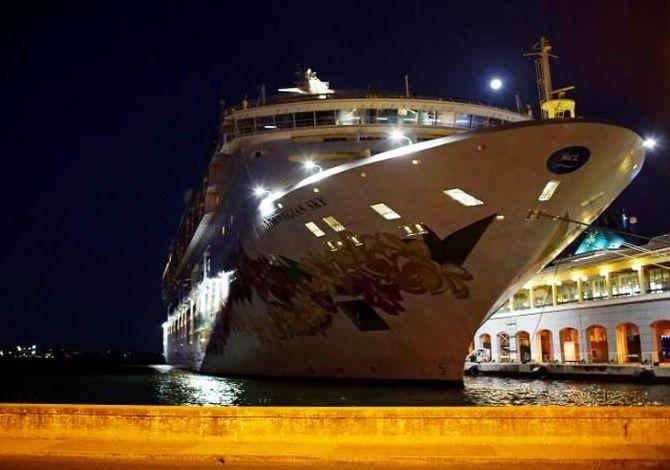 Union Minister for Road Transport & Highways and Shipping Nitin J Gadkari blamed the bureaucrats -- apart from the media, a "microscopic minority of NGOs" and court cases -- for causing delays in the completion of development projects.
"We have only five years, you have 58," the minister berated top-ranking bureaucrats present at the preview of 'The Dawn Of Cruise Tourism In India' in Mumbai on Tuesday, August 8, which the minister said has the potential to generate Rs 35,500 crore (Rs 355 billion) in revenue in the next five years.
"We have to make decisions on such projects and get them up and running within five years," Gadkari added, looking at Maharashtra's Chief Secretary Sumit Mullick; Sanjay Bhatia, chairman, Mumbai Port Trust; Rashmi Verma, secretary, minister of tourism, and Ravi Kant, secretary, shipping.
"Bureaucrats are responsible for delays, not ministers," Gadkari said, citing his experience as the public works minister in Maharashtra between 1995 and 1999 when he successfully oversaw the completion of the Mumbai-Pune Expressway and 55 flyovers in Mumbai, each at a cost of Rs 1,500 crore (Rs 15 billion), but could not get the Bandra-Worli Sea Link done because of opposition to the project from local fishermen, environmentalists and court cases that led to escalation of costs by several thousand crore rupees when it was finaly completed in June 2009.
Not limiting himself to castigating the bureaucrats, Gadkari, who, ironically, a few minutes earlier had berated the media for writing "six column reports" against development projects, urged the media to "expose the bureaucratic system."
Asked if berating public servants from a public platforms could demoralise bureaucrats, Gadkari said, "It is your job to do that. You do it."
The government, Gadkari said, will construct cruise terminals at five ports -- Mumbai, Goa, Mangalore, Kochi and Chennai.
Quoting from a project report prepared by consultants Bermelo & Ajamil and Ernst & Young, Gadkari said, India's cruise tourism would bring 4 million international tourists to India against just 200,000 today.
According to this report, once the infrastructure is in place, 955 cruise liners will visit India every year compared to just 158 now, the passengers per ship will jump from 1,250 to 4,200 and would be able to generate Rs 35,500 crore of revenue against just Rs 712 crore (Rs 7.12 billion) today.
Besides, hundreds of thousands of young Indians will get employment in the tourism industry and these figures are for just five ports.
80 per cent of the cruise liners will dock in Mumbai and this will immensely benefit the financial capital of the country.
"In the next 15 days we will begin construction of a Rs 300 crore (Rs 3 billion) cruise terminal in Mumbai with the provision to make three cruise liners dock at the same time in future," Gadkari said.
The Mumbai cruise terminal will be completed in two years, he added.
"According to this report any international tourist visiting Mumbai via these cruise liners will have the potential to spend at least $100 and if 40 lakh tourists, each, were to spend this amount on an average in Mumbai, then just imagine the revenue potential of this project," Gadkari said.
"We studied the Singapore tourism cruise model to find solutions for problems of immigration, customs, health, security," the minister added.
The company responsible for creating 80 per cent of global project reports for cruise tourism was given the contract.
"Based on its report," Gadkari said, "we have solved almost every possible problem that could obstruct the growth of cruise tourism in India."
Photograph: Alexandre Meneghini/Reuters