This means lower losses on fuel sales by Indian oil companies and a shrinking oil subsidy bill for the government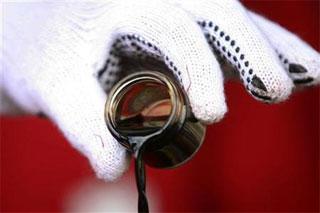 The slump in global crude oil prices is not a blip and rates are unlikely to touch $110 a barrel anytime soon. The European benchmark Brent recently tumbled to $90 a barrel, its lowest level in 27 months.

A range of factors is pointing to bearish global oil prices for months. This means lower losses on fuel sales by Indian oil companies and a shrinking oil subsidy bill for the government.

Three months ago, the new government's Budget had pencilled this year's fuel subsidy at Rs 63,000 crore (Rs 630 billion), a 26 per cent decline from last year. It had assumed average crude oil prices of $105-110 a barrel. Now, this is turning into a gross overestimate, with most analysts writing down losses of oil companies for selling fuel cheaper than market prices.

ICRA Research had earlier projected underrecovery on fuel sales to decrease to Rs 1 lakh crore in 2014-15 from Rs 1.39 lakh crore the previous financial year. This was based on an average price of the Indian basket of crude oil at $108 a barrel. The research house now reckons the underrecovery will be Rs 90,000 crore (Rs 900 billion) if the crude oil price remains low for the rest of the year.
"If crude oil prices decline further in the medium term because of structural factors, such as a sustained rise in North American oil production from shale oil and tar sands, and a gradual unwinding of quantitative easing programme by the US Federal Reserve paring speculative positions in petroleum exchanges, the underrecovery can potentially decline further," ICRA said in a recent note.

India imports 75 per cent of its crude oil requirements. According to the petroleum ministry, the country bought nearly 189 million tonnes of crude oil, for $142 billion, in 2013-14. Around two-thirds of this came from West Asia, including Saudi Arabia, Iraq and Iran. Another big chunk came from Venezuela and Libya.

Production and exports in many of these countries, which have experienced disruptions in recent years, are set to begin again. "One million more barrels of oil per day could enter the market when Iran's nuclear issue is resolved. Iraq's oil production recently hit a 30-year high, even as its oil industry rebuilds after a war and decades of underinvestment. Several hundred thousand more barrels of oil per day are expected to come online this year alone," Jesse Colombo, a contributor to Forbes magazine, wrote in an article earlier this year.

There are equally pressing factors at play on the demand side. Since the financial crisis of 2008, policies of central banks across the world led to a flood of money pouring into various asset classes. The situation is now expected to change. With unemployment in the US dropping to 5.9 per cent and with revised estimates showing the US economy growing at 4.6 per cent annualised rate, the likelihood of the US Fed raising interest rates early next year has risen. This could put an end to the era of cheap money.

Higher US interest rates, coupled with the European Central Bank and the Bank of Japan embarking on their versions of quantitative easing, are likely to strengthen the dollar. Its impact is expected to be felt on commodity prices. "Typically, when the dollar strengthens, it exerts a downward pressure on commodity prices," said an industry expert.

"The impact of this on the trajectory of oil prices needs to be seen in conjunction with a weakening economic outlook in the euro zone and China, and the increasing dependence of the US on shale gas," said Shubhada Rao, chief economist at YES Bank.

Oil production in the US is expected to touch 9.2 million barrels a day in 2015. Additionally, there has also been a nearly 40 per cent increase in US natural gas production since 2007 which could further reduce the country's dependence on oil. Also, analysts expect China's economic growth to slow down to seven per cent in 2014, another factor that could keep oil prices low.

"If ever there were a geopolitical world that should be driving oil prices higher, it would seem to be right now," Foreign Policy magazine quotes Daniel Yergin, vice-chairman of energy consultancy IHS, as saying, in a recent article. "But what it tells you is how powerful the fundamentals of the market are, and right now the fundamentals are winning."

Analysts estimate if oil prices average $100 a barrel for the whole year, India's current account deficit is likely to be in the range of 1.6-1.7 per cent of gross domestic product. But if prices average around $90, the deficit could fall to 1.3-1.5 per cent.

According to CARE Ratings Chief Economist Madan Sabanavis, with every $10-a-barrel decline in crude oil prices, India's oil import bill will fall by $16-17 billion. This will substantially reduce the current account deficit.

The average of Brent crude oil price in 2011-12 was $114.5 a barrel. Since then, it had fallen around $3 a year until March this year. During this period, India was able to end its petrol subsidy. However, Brent has averaged $105.65 so far this year. As prices have started falling lately, the real impact will be felt in the import bill, inflation and the current account deficit in coming quarters.