Enthused by rising potato prices after a prolonged slump, Pradeep Shar­ma was planning to sow the crop on his 15-acre farm near Agra slightly earlier than usual.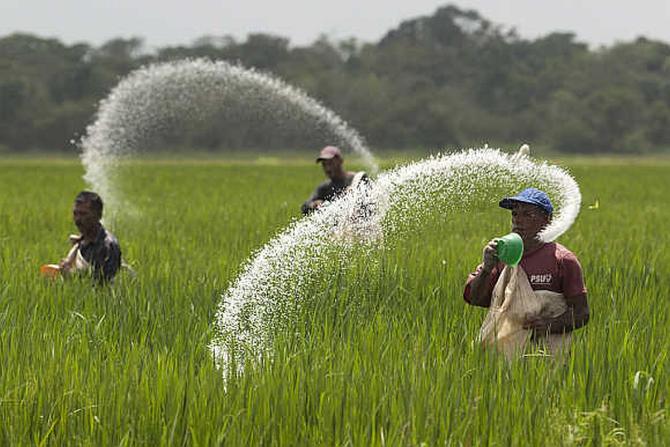 The delayed departure of the southwest monsoon also prompted his decision, since the good soil moisture would have saved at least one initial irrigation.
But the acute shortage of diammonium phosphate (DAP), a crucial nutrient ahead of the sowing season for potatoes, nipped those hopes in the bud.
DAP is the second-most used fertiliser in the country after urea.
Stocks of this and other complex fertilisers fell sharply when companies cut imports of both raw materials and the finished product because of the steep rise in international rates that made imports unviable even with addit­i­onal government subsidy support in June.
India imports around half of its annual DAP requirement, while the raw materials for domestic manufacture, ammonia and phosphoric acid, are almost entirely imp­orted.
In NPK, or a nitrogen, phosphorus and potassium combination in different grades, which is considered the next best alternative to DAP, the country produces around 80 per cent of its requirement.
"DAP is completely out of stock in cooperative societies though it is available freely in the black market at a steep price," Sharma told Business Standard.
One 50 kg bag of DAP costs about Rs 1,200 with the subsidy.
Farmers said that it is being sold in the black market at anywhere between Rs 1,500 and Rs 1,800 per bag.
Potatoes grown on one acre, said Sharma, require roughly eight bags of DAP, but this season he has not managed to get even one bag.
"Whenever we contact the district adm­inistration, they say that railway rakes will arrive soon.
"But even if the rakes arr­ive, more than 3,000 farmers will jostle to get the 800-odd bags on them," he added.
This is the situation in cooperative soc­ieties across Uttar Pradesh, Madhya Prad­esh, Haryana and Rajasthan.
In fact, the entire northern belt that covers the prime rabi-cultivating zone and grows tonnes of wheat, mustard, pulses and vegetables has been facing an unprecedented shortage of critical DAP and other complex fertilisers for the past few months.
The problem has become more acute since October when the extended monsoon provided an ideal opportunity to sow rabi crops early to take advantage of the moisture content in the soil.
But the problems over DAP supply were, in fact, emerging before the rabi seas­on.
Between June and October 23, 2021, spot prices of imported ammonia from West Asia rose 14.54 per cent, while cost-and-freight (CFR) imports of phosphoric acid jumped 16.23 per cent.
Overall, the costs of the two critical raw materials have jumped 134 per cent and 68 per cent, resp­ectively, over the past year, and DAP imp­ort prices have risen 77.54 per cent to $680 from $383 per tonne in the same period.
Almost half of India's annual DAP production is imported. Rising costs promp­ted the government to announce a mid-season subsidy support of Rs 14,775 crore in June and then an additional Rs 26,000 crore in October (these are over and above the budgeted fertiliser subsidy of Rs 79,529 crore for FY-22).
But this has not really helped; DAP prices have gone up by 17.24 per cent between the last round of subsidy support in June and now in October.
Stocks have also dwindled. As of Sep­te­mber 30, 2021, which marks the start of the rabi sowing season, India had around 2.1 million tonnes of DAP stocks, 59 per cent less than the same period last year.
NPK stocks on the same date were 3.24 million tonnes, 10 per cent less than last year. And, stocks of muriate of potash (MoP), another nutrient, were at one million tonnes, which was 53 per cent less than last year.
From October 30 this year to March 2022, India will require another 4.70 million tonnes of DAP, 4.86 million tonnes of NPK and 1.45 million tonnes of MoP apart from 15.96 million tonnes of urea, according to a fertiliser ministry assessment.
Trade and industry sources also said that in both rounds of additional subsidy support in June and October, the emphasis has been on ensuring DAP prices are kept at last year's levels of Rs 1,200 per bag.
As a result, support for other complex fertilisers such as NPK has been less than required, which could in turn hit their domestic production.
Given the high prices and consequent shortages, the government has set up a track-and-trace system for monitoring sup­plies based on district- and crop-level req­uirements to smooth the distribution cha­in.
It has also set up a war room-like structure in the ministry to monitor developments.
On Monday, fertiliser minister Man­sukh Mandaviya dismissed reports that there was any shortage anywhere in the country and warned hoarders and black marketeers of strict action.
He said in Nov­ember, production and supply of all major fertilisers such as urea, DAP and NPK will surpass the demand raised by states.
However, trade and market sources said that sporadic shortages and supply issues will persist for some time to come.
That's because international prices of both ammonia and phosphoric acid are not expected to come down anytime soon.
"Ammonia prices in the global markets are expected to stay at an elevated level due to high gas prices, which has shut down ammonia plants in Europe.
"Already, some companies in the US market are signing purchase deals in excess of $800 per tonne for ammonia, and West Asian market prices are trending around $715 per tonne," said Sabyasachi Majumdar, group head & senior vice-president, ICRA Rat­ings.
"In the case of phosphoric acid, too, the third quarter contract price is expected to be at least $50-100 per tonne more than the second-quarter prices."
Finished DAP imported prices are expected to remain high because of this.
The bigger problem, according to Majumdar, will be from April 2022, as the current stock drawdown could have an impact on the availability of fertilisers ahead of the next kharif season.
According to trade assessments, locally, around 4.3 million tonnes of DAP is exp­ected to be available in the second half of FY-22 (October to March), while NPK availability is expected to be around 5.91 million tonnes and urea around 16 million tonnes.
For the domestic manufacturers, analysts predict a 5-7 per cent contraction in total fertiliser sales in FY-22 due to excess rains during the kharif season and high price of DAP.
Unless, of course, the Centre manages to plough in more subsidy support in FY-22 without jeopardising its fiscal balance.
Photograph: Carlos Garcia Rawlins/Reuters