The Centre is looking to procure around 1 billion syringes between September and December to support the COVID-19 vaccination drive, reports Sohini Das/Business Standard.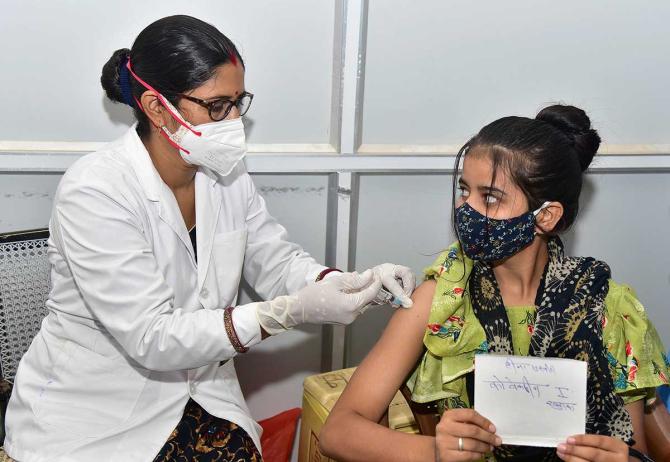 With vaccine production picking up, the demand for syringes has shot through the roof.
Leading syringe maker Hindustan Syringes & Medical Devices feels demand may soon outstrip supply.
For instance, the Serum Institute of India is now manufacturing 150 million doses of the Oxford/AstraZeneca-developed Covishield vaccine in a month.
In comparison, Hindustan Syringes makes 50 million auto-disable syringes monthly.
Auto-disable syringes are designed to prevent reuse of non-sterile syringes, and are used primarily by governments and global non-profit organisations for vaccination drives.
Syringe manufacturers are ramping up.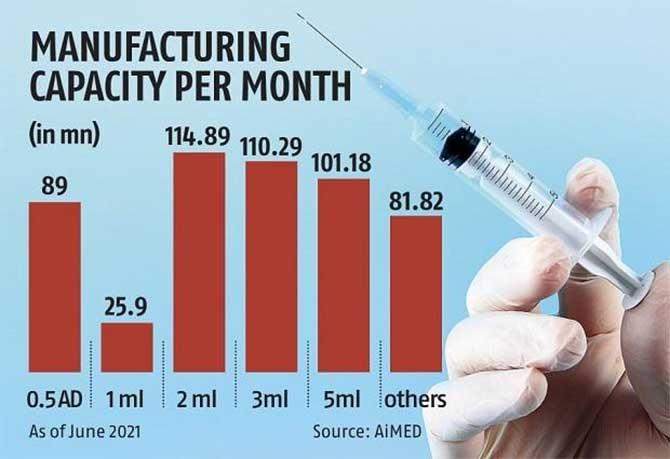 Rajiv Nath, chairman and managing director, Hindustan Syringes, tells Business Standard that the company has doubled its auto-disable syringe capacity from 500 million a year in 2020 to 1 billion syringes now.
From an overall capacity of 2.4 billion syringes (including disposable syringes), Hindustan Syringes's total production capacity is 3 billion syringes.
Nath plans to take the auto-disable syringe capacity to 1.2 billion by March 2022. He also plans to take the disposable syringe capacity from 2 billion to 3.5 billion by next year.
Industry sources claim the Centre is looking to procure around 1 billion syringes between September and December to support the vaccination drive.
However, anticipating that the supplies of auto-disable syringes could be stretched, the government has also floated tenders to procure disposable syringes.
Narendra Jain, president and CEO, Iscon Surgicals, another major syringe maker in the country, explains: "The government is now open to procuring even 1 cubic centimetre auto-disable syringes, apart from the 0.5 millilitre ones. Some six or seven players who have the 1 cc product could participate in the tenders. Moreover, low-dead space syringes are also being procured by the Centre."
When a medication or vaccine is injected, some amount of it can linger in the syringe in what is known as the 'dead space' between the plunger and needle. Low-dead space syringes are designed to minimise that, and with it, waste.
The pressing need for low-dead space syringes is relatively new.
The specialised syringes are considered a niche product, used when dealing with drugs like fertility treatments, where medication waste can be especially costly.
Jain feels that supplies will remain adequate for the COVID-19 vaccination drive.
Demand for syringes for non-Covid vaccination has also picked up.
Of the 1.9 billion disposable syringe capacity Hindustan Syringes had last year, the utilisation was around 50-60 per cent. This has now gone up to 100 per cent.
Hindustan Syringes is also adding a new plant to make steel tubings and cannulae that are components to make needles. The firm has already invested Rs 100 crore (rs 1 billion) in the last one year, and plans to invest another Rs 50 crore (Rs 500 billion).
Most of the production is consumed in India. Almost 80 per cent of Hindustan Syringes's production is consumed in India, while Jain says almost Iscon's entire production is being consumed by the domestic market now.
Syringe makers feel once vaccine exports are allowed, the global demand for auto-disposable syringes will grow manifold.
Feature Presentation: Ashish Narsale/Rediff.com