'The real lifting of the economy will happen only if this momentum sustains in the coming months.'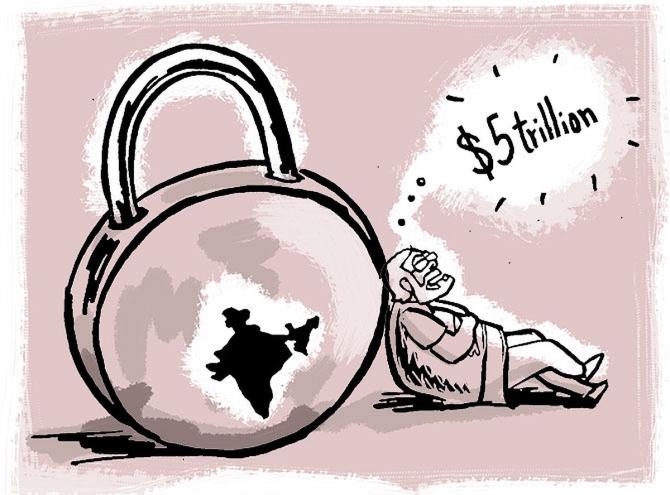 Much of the recent data has raised hopes of economic revival, but deeper analysis shows that there is a long way to go for the economy to get back to health.
It is true that Goods and Services Tax (GST) collection was not only the highest in seven months at over Rs 95,000 crore in September but also higher by 4 per cent over the mop-up in the same month last year.
Similar was the case with exports, which rose 5 per cent in September year-on-year, representing first growth in outbound shipment in seven months.
The other indicators such as fertiliser sales, the purchasing managers' index (PMI) for manufacturing, peak power consumption growth, car sales - all point to economic recovery.
There are some segments that show that recovery is still nascent.
For instance, non-oil, non-gold imports were down by 13 per cent in September though that more than halved from around 30 per cent in the previous month.
The credit-deposit ratio has been declining in the three fortnights ended September 11 as deposits grew at a higher pace despite a low interest rate and credit growth declined.
Similarly capex on new projects declined 81 per cent in the second quarter over the corresponding period last year.
C Rangarajan, former chairman of the prime minister's Economic Advisory Council and former Reserve Bank of India governor, said: "GST collection and some of the other numbers indicate that the economy is slowly catching up to the level prior to Covid-19.
"But they do not indicate that they are making up for whatever has been lost."
The real lifting of the economy will happen only if this momentum sustains in the coming months, he said.
"Whether they rise above the pre-Covid level is critically important. Unless that happens there is no way of compensating for the loss of the fall in production since April this year," Rangajaran emphasised.
Former chief statistician Pronab Sen said one could always call these numbers green shoots.
"Everything depends on the comparison you are making. The moot point remains whether it is sustainable."
He wondered if any piece of data indicated that anything more than pre-festival expenditure had happened.
"That is the core. This is the time when pent-up demand, which comes from Q1, will happen.
"The question is whether this can be sustained. That we can find out only after the festival season is over," he said.
Arun Kumar, who is Malcolm Adiseshiah chair professor at the Institute of Social Sciences and earlier taught economics at Jawaharlal Nehru University, said green shoots were bound to show when unlock happened and allowed more businesses to open up but these did not mean recovery was back to what it was earlier.
He also cast doubts on GST collection figures, saying these numbers were overstated.
"The argument that is being given is that GST collection has improved ... so production has recovered.
"That is not correct because we know that in the case of airlines only 40 per cent (of those) is operational.
"So is the case with hotels, restaurants, tourism and so on.
"And demand for FMCG production has not recovered," he said.
He said GST numbers given were gross figures because his talks with some businessmen gave him the impression that refunds were being withheld.
Also, companies whose turnover was below Rs 5 crore were given time till September to file returns.
Those whose turnover is above Rs 5 crore were given time till June.
"So there was lumping in June and there was lumping in September.
"Otherwise, tell me how GST collection will recover to where it was last year when a large part of services, which pays huge GST, is not functioning properly."
Aditi Nayar, principal economist at ICRA, said the uptick in GST collection came as a relief although it was likely to have been driven by a combination of pent-up demand and inventory restocking and thus its sustainability remained unclear.
The PMI figures, she said, suggest that activity and sentiment had improved appreciably in September relative to the previous month, which would have benefited from the continued unlocking of the economy, in addition to the aforesaid factors.
"Overall, the high frequency data available for September confirms that a fragmented recovery is underway," she highlighted.