Over 600 slots at three major airports - Heathrow, Dubai and New York's JFK International - could be at stake.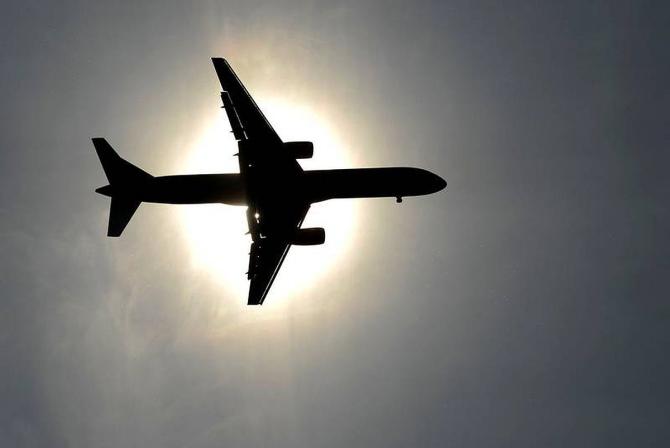 SpiceJet and Vistara recently started flights to London after bagging slots at Heathrow airport, dubbed by Virgin Atlantic founder Richard Branson as the world's most expensive piece of concrete that can be owned for 90 seconds.
Many questions came to mind about India's private airlines' international plans.
Business Standard's examination shows that over 600 slots at three major airports - Heathrow, Dubai and New York's JFK International - could be at stake if nine airlines go out of business.
Most of these slots are at Heathrow and owned by Virgin Atlantic and Flybe, the defunct British domestic carrier.
"The government should ask private airlines to connect cities like Hyderabad, Bengaluru and other non-Delhi non-Mumbai routes with non-stop flights to the US and the UK," said Jitender Bhargava, former executive director of Air India.
"This crisis is a golden opportunity for India's airlines to start long-haul operations.
"More airport slots are available. Aircraft leases will get cheaper as many airlines have simply parked their planes in deserts anticipating low demand for the next three years," he said.
The coronavirus pandemic has created an aversion for one-stop flights, so private airlines could be eyeing long haul non-stop flying: a role that has been the sole domain of Air India.
The industry reckons the mayhem from the coronavirus will continue till 2023, but airlines that survive will be like vultures circling over prey.
Their target would be airport slots vacated by airlines that fail to survive the $84 billion losses global aviation is expected to suffer in 2020.
Virgin Atlantic has filed for Chapter 15 bankruptcy protection in the US even as it seeks to raise $1.5 billion from European investors to avoid going out of business.
It has sold its Australian arm to Bain Capital, which in turn has suspended the airline's domestic operations of its regional subsidiary Tiger Air.
According to Airlines for America, a Washington DC-based trade group of North American Airlines, at least 17 other international and domestic airlines have had either to restructure their ownership to ensure survival or cease operations.
The world's busiest airports have coordinated slots during which airlines can land and depart.
Slots are needed because an airport's infrastructure isn't sufficient to handle the demand for airlines to operate from that airport.
Countries usually give lucrative daily slots to their domestic airlines.
Heathrow is a rare airport to allow airlines to trade slots.
A British Parliament report estimates that Heathrow's slots can fetch anywhere between 5 to 15 million GBP depending on time.
Airlines can pay for a lucrative morning slot, or lease it out.
The morning slots are usually the coveted ones and fetch huge premiums.
In March, Air India leased six evening and late night slots at Heathrow from Indonesia's Garuda Air for an undisclosed amount.
British Airways bagged most of Flybe's slots.
A handful of late evening slots were transferred to Virgin Atlantic.
If an airline fails to use 80 per cent of its slots, it must return them.
This "use it or lose it" rule has been suspended till October for the Covid-19 crisis.
Vistara, SpiceJet and Indigo applied but none has slots at Heathrow yet, though Vistara and SpiceJet have announced non-stop flights soon to the airport under India's travel bubble arrangement with the UK.
ACL's reports and trading data don't show SpiceJet either being allotted a slot or having purchased or leased one, but the airline told India's stock exchanges that it had bagged a slot at Heathrow from September.
Photograph: Reuters