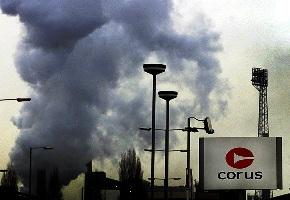 Tata Steel Europe, formerly known as Corus, needs to look beyond Europe and US and focus on emerging markets to revive its fortune, according to Tata group Chairman Emeritus Ratan Tata.

While admitting that $12-billion deal to acquire the Anglo-Dutch steel maker Corus was 'expensive', Tata, however, said he was hopeful of a turnaround by the struggling European steel giant.

"I think there are many things that Corus probably needs to do.

"It has been a traditional Europe-facing and US-facing company.

"While the US has been coming out of recession, Europe is still flat or down and I think the company needs to look at different markets, including the emerging markets, as a market for its products," Tata said in an interview on CNBC's Managing Asia.

Asked if Tata Steel would consider selling all or part of the company, which is losing around $1 billion a year, he declined to comment, saying "I have been away from that situation for nine months. I wouldn't like to comment".

He, however, hastened to add, "I understand that very slowly things are turning around".

In May this year, Tata Steel revealed 1-billion pounds write-down in the value of its European arm, underlining the chronic difficulties faced by the company.

Moreover, last month Tata Steel Europe announced major restructuring proposals to boost its competitiveness that could lead to the loss of around 500 jobs in the UK.

Tata Steel's European unit has faced problems almost all through so far since it was acquired by the home-grown steel major in 2007. The financial crisis in the Euro-zone economies, which has led to subdued demand, was the main reason for the troubled times.

The company had mothballed some assets, put in money for modernisation and even resorted to job cuts to make the unit healthy and withstand the downturn.

Defending the move to acquire Corus, Tata said: "It was expensive. . .We were only a five million tonne company in India and this gave us about 20 million tonne.

"So it was a high price but not a price that would do what the economic situation did to us, which is unfortunate."

Expressing hope that the company will do well in future, he said: "Maybe in a few years from now, I hope we can put our feet up and say 'it was tough during that time but it was still worthwhile'.
Photograph: Jonathan Evans/Reuters